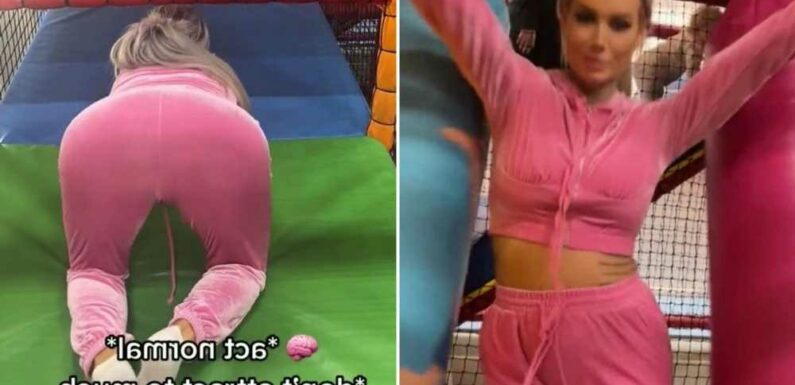 IT'S a place mums go to in order to catch up with friends, grab a coffee and let their kids run off some steam.
But for Megan, the soft play is also an opportunity for her to check out the "hot single dads".
She took to TikTok to share a video of herself in the kids' play centre, writing over the top: "When you take the kids to soft play to get a break and you spy the hot single dads."
Megan then raised her eyebrows suggestively, before unzipping her coat and taking to the soft play equipment herself.
"*act normal*," she added.
"*don't attract too much attention to yourself."
Read more Dating stories
I needed surgery after date bit through my TONGUE during passionate kiss
Woman rejected by a would-be Romeo – all because of her top
But Megan didn't manage to do that, as she ensured she was the centre of attention in her cropped pink jacket and matching trousers.
She began by spinning around a large pole in the centre of the padded equipment.
She then pushed her way through some hanging poles from the ceiling, treating the venue like her own personal catwalk.
Perhaps Megan's most suggestive move though was when she bent down to go underneath something in the soft play – sticking her derriere into the air in the process.
Most read in Fabulous
William smiles with Kate & King Charles has a laugh as royals return to work
Harry won't be welcome at Coronation as royals fear 'ending up in paperback'
I'm a mum & I paid off £28k of debt in eight months thanks to these simple steps
Kate seen for first time since details of clashes with Meghan were revealed
She seemed to pre-empt the kind of comments she was going to get on the post, so turned them off.
However, people were still keen to view the video, as it has had over 562,000 views since Megan posted it.
On her Instagram page, Megan describes herself as a dancer, glamour model and content creator.
She's also a mum to two daughters.

Source: Read Full Article