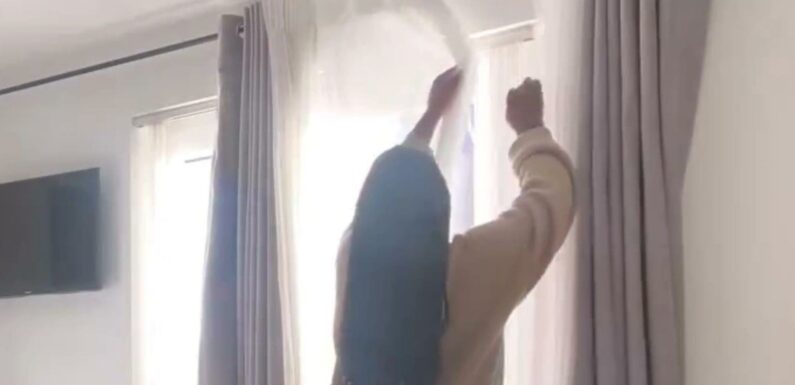 AN INTERIOR designer has taken to Instagram to share her easy fix that will help make any room look bigger – and it'll take seconds to do. 
Sandra revealed that placing a long curtain rail as close to the ceiling as possible can help make any space feel bigger – and it'll give it a more luxurious look too. 
Sandra, known online as @sandras.home.life, regularly shares affordable interior design and DIY tips with her 7,236 followers. 
In a new reel, she said: "If you're like me and have a small, basic room like this, watch what I did with my curtains to make this room look bigger and a lot more elevated. 
"One, hang your curtains as close to the ceiling as possible (the higher the better). 
"Two, hang your curtains as wide as possible. If you can, have the curtains cover the walls on either side of the window/door."
MORE INTERIOR DESIGN TIPS
I'm a DIY pro and here's a cheap way to keep your home warmer
I'm an interior design pro and here's the common mistake everyone makes
Below the video, she continued: "It's giving 'boudoir vibes' and 'luxury hotel vibes'. 
"An easy and budget-friendly interior hack is always going to win for me. 
"I did this a few years ago and have never looked back! It really adds an extra touch of luxury to your home and helps with the dreaded low ceilings you get in new builds."
Fans loved her quick and easy hack, with the video gaining more than 8,800 likes and 321,000 views. 
Most read in Fabulous
Woman who is almost 70 & has no wrinkles shares her £1 anti-ageing trick
I'm a professional cleaner – there's five products I would never waste money on
I paid off £17k of debt in 18 months thanks to an easy trick, anyone can do it
I'm midsize & tried the new Primark sets – you'll want every colour
In the comments, Sandra's followers shared their reactions, with one writing: "Absolutely love it. Does make the wall look bigger."
Another said: "Great idea! Hotel room vibes (but in a good way!)"
A third added: "Omg this is such a good idea to hide the tv as well. I hate my TV showing in my bedroom."
Someone else put: "I love a high-position curtain rod. Such a beautiful look!
"I'm obsessed with ours. Easy way to add elegance and sophistication to a room."
Source: Read Full Article