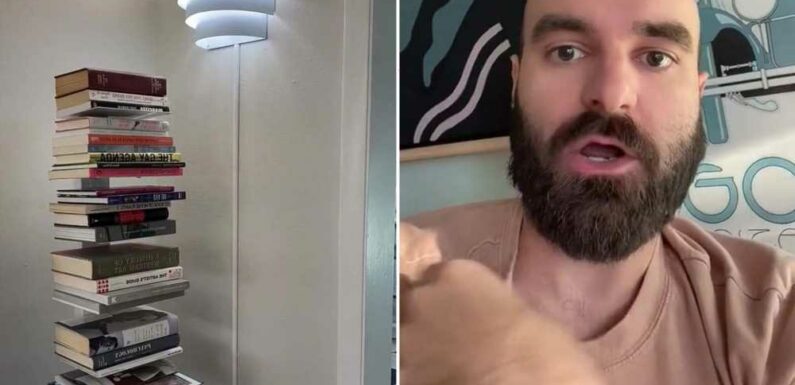 AN INTERIOR designer has revealed the trends they want to 'die' in 2023 and one of them could even be making your home a live-in danger zone.
Ryan Filipski took to TikTok to reveal the furniture it might be time to wave goodbye to.
First up are concrete style side tables that are supposed to be sleek and minimalist.
"They're going to scratch the f**k out of your floor, they look super porous and sharp and jagged.
"These are for landscaping guys," Ryan added.
The heavy tables are also a nightmare to move around your home since they're so heavy.
READ MORE ON HOMES
I'm an interior whizz and these 10 things are making your home look cheap
I'm a luxury interior designer & here are my tips for styling a small bathroom
"I can only imagine what would happen if you picked up one of the tables to move it and it literally decapitates your whole foot," the interior whizz added.
Wireless light fixtures are also a big no-no – let's face it, you're going to lose the remote for them and they last as long as normal lightbulbs.
Ryan said: "The light will die after three hours and you will never keep up with recharging it every single night, you just won't."
Instead, the pro told viewers to be more savvy about disguising cables so you don't have to use anything wireless.
Most read in Fabulous
I'm a traveller and here is how I get my living room sparkling
My dad was a famous 80s popstar, he gave us very unique baby names
I'm a skincare expert – how Madonna's face has changed in battle against wrinkles
I'm a traveller & my easy 80p Dunelm hack gets grimey windows sparkling clean
Fake plants, especially big faux olive trees aren't just a nightmare to dust, they don't look half as chic as you probably think they do.
"I just don't get it," Ryan said, "go and visit Tuscany, get your fix on olive trees and then come back and get a real houseplant."
Finally, having random branches and twigs in vases is more than just an eye sore for the interior designer – it's a bit of a health hazard too.
Not only would the twigs sticking out in every direction be an accident waiting to happen if anyone was to trip and fall on them but there could be creepy crawlies hiding on the twigs too.
"This is going to poke someone's eye out," he said.
"Are you spraying them down for bugs when you bring them inside?"
Fellow TikTokers loved the tips, one person wrote: "I totally agree with the wireless sconce hack, all I can think of is the mini remotes all over the house."
Not everyone agreed with Ryan's interior trend pet peeves though, one viewer commented: "Respectfully disagree with absolutely everything you just said."

Source: Read Full Article