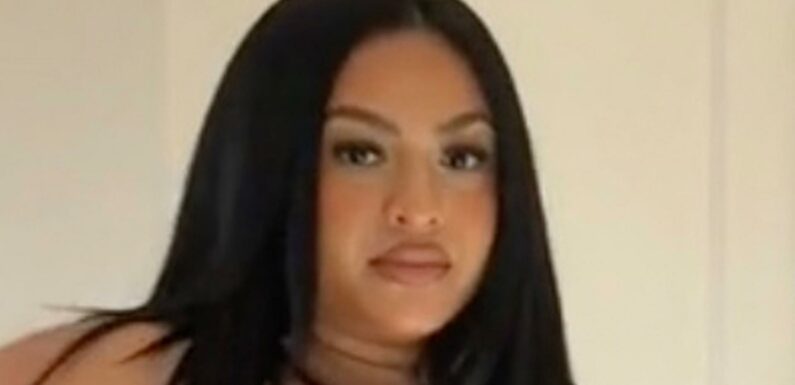 A CURVY creator tried on swimwear from Kim Kardashian's Skims alongside her size 2X friend.
The plus-size influencers shared their thoughts on the stylish looks, including a blue skirt that reminded them of Moana.
In her video, TikTok user Ashley Lopez (@superashley127) explained: "Kris and I are back with another Skims review. We've got brights."
Ashley modeled the $38 swim triangle top in neon green and the $38 matching swim waist bottoms.
The TikToker layered the look with the $54 swim ruched mini skirt, also in the color neon green.
"They are giving. This little top is itty bitty but it's making the girls look good. This is a size XL and the skirt coverup is a size 2X," Ashley told viewers.
Kris posed in the $38 swim bandeau bikini top in a turquoise color and the $32 matching swim cheeky tanga bottoms.
The influencer completed her look with the $78 swim sarong skirt, also in turquoise.
"I feel like Moana. I like this one, it is a 2X. I love it, love how it looks. The bottoms, I prejudged them. I didn't think I'd like it but it's beautiful," Kris explained.
The stylish duo removed their coverup skirts to give viewers a look at the bikini bottoms.
Most read in Lifestyle
Sun astrologer Mystic Meg who shot to fame on National Lottery dies aged 80
My husband Kyle Walker is a d*** after being caught flashing, says wife
Pat Sharp loses job after joke about woman's boobs at show leaves her in tears
Big bargain shop chain 'to open' 28 new stores in huge expansion plan
"For the actual swim bottoms, both are 2X and they are fitting really nicely. These are a really nice high-waisted moment," Ashley said.
Referring to Kris' look, she added: "This one is a little bit more skimpy but it is cute."
TikTok users took to the comments section to share their thoughts on the looks.
One impressed viewer called the duo's Skims looks "stunning."
"You ladies are a vibe. Muchas bendiciones," wrote another follower.
"The neons are for us," Kris added in the comments section.

Source: Read Full Article