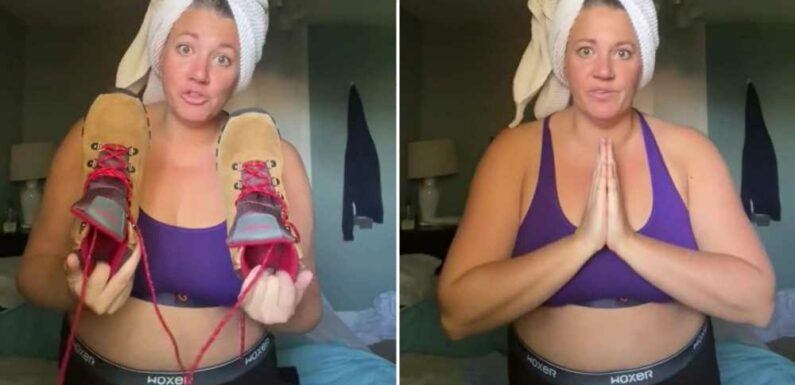 SHE'S gained weight recently and is at a place she initially wasn't too comfortable with.
But Sharon has now decided to follow a new motto in her life to help her embrace her new curves – "do it fat".
"I recently hit 210lbs, a place I have never been before," she began her TikTok video.
"And with that, I have developed the motto, just do it fat.
"Do I have a huge backpacking trip in two weeks that I was going to lose a bunch of weight for and get in shape for? Yes.
"Did I do those things? No.
Read more Body Shape stories
I'm plus size and wear skirts as crop tops, I get trolled but I know I look good
I'm a size 18 with 36E boobs – trolls call me a fat & vile but I don't care
"Do I weigh more? Absolutely. But am I still gonna go? Hell yeah.
"Why? Because there is no rule or weight requirement for being awesome and doing fun things."
Sharon continued to reveal other scenarios where her motto could come into play.
"Think you can't wear that two-piece because you're too fat? Just do it fat," she said.
Most read in Fabulous
Meg & Harry reignite war on William & Kate with Netflix trailer ambush
Meg & Harry's Netflix trailer is so ghastly my intestines recoiled in disgust
Woman gets tattooed eyeliner in PURPLE – and everyone's saying the same
Mum accused of taking things 'too far' with her Elf on the Shelf's arrival
"Think you can't go to that yoga class? Just do it fat.
"Think you can't go for a run because you're going to die and it's going to feel awful? Just die and feel awful – just do it fat."
She concluded: "Just do things. It might take you longer.
"You might breathe a little harder. You might sweat a lot more.
"But it doesn't matter – you can still go do those things – just do it fat!"
She added in her caption: "Thank you to the lovely @Elyse Myers for drilling this into my head so much so I didn't even realise it was because of her I was saying it.
"Let's go do all the things regardless of our body size."
She was quickly praised by other people in the comments section for her motivational video.
"Girl, I went to the f**king beach in Costa Rica today for the first time in over five years bc of your video. In a two-pc. Thank you," one wrote.
"YES!! I've been waiting my whole life to do things when I get skinny," another added.
Read More on The Sun
Woman makes Christmas decorations for her stairs & they're easy to remove too
Millions of iPhone owners must check settings today – it's dangerous not to
As a third commented: "I just got married this weekend, at 210 (my heaviest)!
"I had the most beautiful weekend and I looked freaking amazing!"

Source: Read Full Article