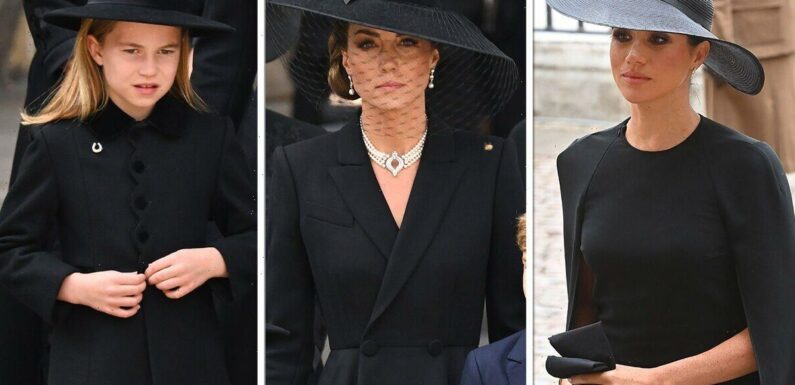 Queen's funeral: Princess Charlotte travels in car with Kate
We use your sign-up to provide content in ways you've consented to and to improve our understanding of you. This may include adverts from us and 3rd parties based on our understanding. You can unsubscribe at any time. More info
The royal jewellery collection is one of the most famous in the world, and several stunning pieces were worn by Kate, Princess of Wales, Meghan, Duchess of Sussex and Princess Charlotte as they attended the Queen's state funeral on Monday. A common motif was pearl jewellery, as the gems have long been considered by the Royal Family to be appropriate for mourning.
Kate, Princess of Wales – Four-strand Pearl and Diamond Choker
Kate, Princess of Wales is famed for her thoughtful jewellery choices, and she donned a very special piece of royal jewellery for the Queen's funeral.
Daena Borrowman, PR, Social and Digital Marketing Manager at jewellerybox, said the pearl necklace Kate wore was worth a staggering six-figure sum.
She explained: "Queen Elizabeth II commissioned the Four-strand Pearl and Diamond Choker from Garrard's using pearls gifted to her by the Japanese government in the 1970s. The necklace is now worth over £400,000.
"The Queen wore it very regularly in the 1980s and 1990s and even lent it to Princess Diana for one of her very first engagements as a royal.
"The Four-strand Pearl and Diamond Choker had its most striking moment when Kate, the Princess of Wales, who had once worn it to the 70th wedding anniversary of the Queen and Prince Philip, wore it at the funeral of Prince Philip.
"Royal watchers remarked how she looked every bit the future Queen on that very poignant day.
"Kate wowed us yet again by wearing the historic choker to the funeral of Queen Elizabeth II, paying a poignant tribute to both the Queen and Prince Phillip, but also to her mother-in-law, Princess Diana, whose title, Princess of Wales, Kate has now inherited."
DON'T MISS:
Meghan Markle's funeral seat hid Duchess from cameras – claim [INSIGHT]
Queen Letizia of Spain dons a 'refreshing' look in New York [PICTURES]
Should King Charles III slim down Royal Family to seven? VOTE [POLL]
Kate, Princess of Wales – Bahrain Pearl Drop Earrings
Kate often opts for a pair of pearl earrings, just like the Queen did throughout her reign, and the ones she wore for the funeral came from the late monarch's collection.
Maxwell Stone of UK jewellery retailer Steven Stone said: "The Bahrain Pearl Drop Earrings also hold a great deal of sentimentality as they were a wedding gift to the Queen from the ruler of Bahrain in 1947. I'd estimate them to be worth £7,000."
Kate notably wore the Bahrain Pearl Drop Earrings for the Queen's Platinum Jubilee service at St Paul's Cathedral earlier this year.
Meghan, Duchess of Sussex – Pearl and diamond earrings
On several poignant occasions since the Queen died on September 8, Meghan has donned a pair of simple pearl earrings with substantial sentimental value.
British shoe and jewellery designer, Freya Rose, said: "Meghan, The Duchess of Sussex, wore a pair of delicate and characteristically discreet pearl earrings, gifted to her by the Queen for her wedding to Harry, for the heartfelt occasion.
"The simplicity of the small pearl and diamond earrings were an elegant and modest, yet poignant piece of jewellery worn in commemoration of her connection to her late grandmother-in-law."
Princess Charlotte – Horseshoe brooch
The Queen's great-granddaughter Princess Charlotte of Wales made her own special tribute to the Queen with her jewellery choice at the funeral.
Freya added: "Charlotte's small diamond horseshoe brooch, a gift given to her by her late great-grandmother, was worn as a beautiful tribute to her late 'Gan-Gan', as Charlotte would refer to her.
"In 2018, The Princess of Wales was quoted that her only daughter, Charlotte, had inherited the Queen's passion for horses.
"Over the years, Queen Elizabeth II famously wore an exquisite number of brooches, each carefully chosen to convey meaning and symbolism of her affairs; Charlotte's mourning attire beautifully embraced this same considered fashion by wearing the loving horseshoe brooch memento, reflecting her sweet and special bond with her great-grandmother."
Source: Read Full Article