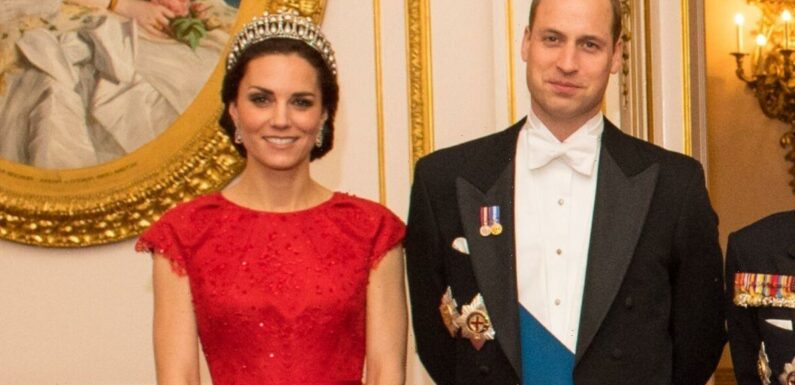 Cartier Halo Tiara: Expert on Kate Middleton's wedding tiara
We use your sign-up to provide content in ways you've consented to and to improve our understanding of you. This may include adverts from us and 3rd parties based on our understanding. You can unsubscribe at any time. More info
King Charles will host the first state visit of his reign next week when the President of South Africa pays the UK a visit. Kate Middleton and Prince William will both take a key role in greeting President Ramaphosa on behalf of the King on Tuesday, November 22.
After arriving on Monday evening, the President will be greeted by the Prince and Princess of Wales at the Corinthia Hotel on Tuesday morning. The trio will then travel to the Royal Pavillion to be greeted by King Charles and Queen Camilla.
There will be a state banquet on Tuesday evening held by Their Majesties, where both King Charles and the South African President are expected to make speeches.
This state banquet will be the first for Kate since 2019, as they were put on hold due to the coronavirus pandemic. This means she will most certainly wear a tiara for the occasion, as it is customary for royal women to do so.
Royal fan @KateMiddStyle tweeted: "Just to let you all know this officially means we'll see Kate in a tiara next week! Correct me if I'm wrong but I don't think she's worn one since December 2019? That's three years people!"
Out of the three tiaras Kate has worn in public, one fan really wants to see the Princess re-wear her wedding tiara from 2011, which was the Cartier Halo Tiara, a diadem loved by other royals such as Princess Margaret during her lifetime.
Royal watcher @CaraLevasseur said: "I'd love to see her wear her wedding tiara again."
Charlotte White, the head of design at Europe's largest online diamond jeweller 77 Diamonds, previously told Express.co.uk the significant royal history behind Kate's wedding tiara.
She said: "For her wedding in 2011, Kate borrowed the Queen's Cartier Halo tiara, commissioned by George VI in 1936 for his wife the late Queen Mother, and which was later given to the Queen to mark her 18th birthday."
The second tiara which the Princess of Wales has often worn on state visits is the Cambridge Lover's Knot tiara, a diadem loved by the late Princess Diana. For the last eight state banquets since 2015, Kate has worn this Cambridge Lover's Knot tiara.
One fan is more open to the idea of the Princess wearing a never-before-seen diadem for the upcoming state banquet next week.
Twitter user @regalmonarchist explained: "Also a reminder that whilst we all love the Cambridge Lover's Knot tiara, it would be great to see something new."
Diana was a huge fan of the beautiful diamond and pearl tiara known as the Cambridge Lover's Knot. The piece was made by Garrards in 1914 for Queen Mary who designed it and left it in her will to the late Queen who loaned it to Diana for her wedding, but she did not wear it on the big day.
This was because it was reported to give her headaches as it was very heavy, however, she did love the piece and it was one of her favourites. The tiara went back into the Queen's collection after Diana died in 1997.
The late Queen had the top row of pearls removed and wore it frequently. Now, it has been passed to Kate who first wore it in 2015.
Alexandra Michell, a gemmologist and jewellery expert from Prestige Pawnbrokers of Channel 4's Posh Pawn previously told Express.co.uk: "One of my favourite quotes is from Keats, 'A thing of beauty is a joy forever.' This is certainly true of this magnificent tiara.
"I am not surprised the tiara was prone to give headaches! It is large and made from platinum, which is a dense metal and would be at least 95 percent pure, giving a heavy mount to start with.
"The pearls are large and together with the array of varying sizes of diamonds, would add to a hefty weight. The tiara has 19 arches and has a single drop oriental pearl suspended from a lover's knot in each one graduating slightly in size around the piece.
"These drops are flexible and show a shimmering movement as the head is turned. The piece is hard to value due to the complexity of the make and the large number of diamonds to consider as well as natural pearls which are rare to find in this size and shape. However, I would think it could be worth in the region of £2- to 4million."
The third and only other tiara Kate has ever worn in public is the Lotus Flower tiara, which she wore on two occasions, once in 2013 and another time in 2015.
The first time was for the Diplomatic Corps reception, and the other time was for the Chinese State Visit Banquet which she paired with a dazzling red Jenny Packham gown. The tiara features a lotus design and is sometimes also referred to as the Papyrus Tiara.
Source: Read Full Article