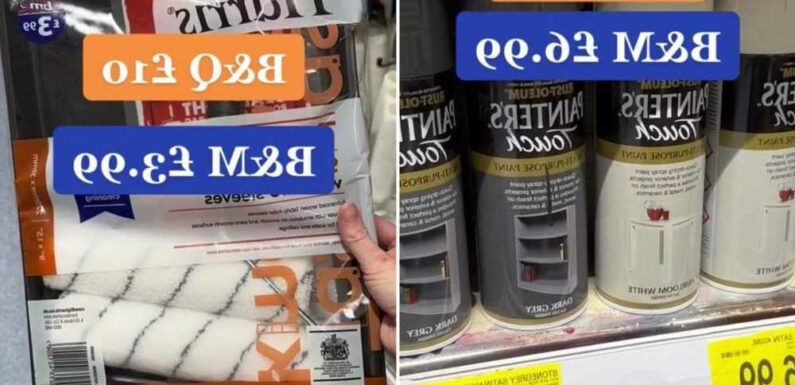 A MONEY-SAVING fanatic was left stunned after comparing the prices of DIY products at B&M and B&Q.
Beth took to her Budgeting Mum page on TikTok to share a video comparing the cost of 10 items in the two stores, and couldn't believe the £25 price difference between the two.
She began with Painters Touch Spray Paint, which was £14.99 in B&Q and just £6.99 in B&M.
Frog tape was £6.99 in B&Q and £4.99 in B&M, while No More Nails was £5 in B&Q and £3.99 in B&M.
Dulux testers were £2.25 in B&Q, the Quick Dry paint was £21 and the Easy Care Bathroom paint was £26.
Meanwhile, in B&M, the testers were £2, the paint was £19 and the bathroom paint was also £26.
Read more DIY stories
We added £85k to rundown flat using DIY hacks – now it's our dream home
I'm a DIY expert, 3 cheap ways that'll make your home much warmer without heating
Roller sets were much cheaper in B&M – costing £3.99 for a large one and £2.99 for a small.
Comparatively, the big one was £10 in B&Q, while the smaller was £5.
White spirit was £3.75 in B&Q and £2.49 in BM, while Polyfilla was £5.43 in B&Q and £2.49 in B&M.
"Looking to do some DIY in a budget?" Bethanne captioned her video.
Most read in Fabulous
Americans turn on Harry and Meghan as popularity plummets in opinion poll
Trolls rinse me for my back tattoo but I don't care – it makes sex better
I'm average-looking but my man is insanely hot – people ask if I'm self-conscious
I'm 92 but still rock minidresses – I've got a £2 secret to looking young
"Wondering where to get your supplies from the make sure you're getting the best deal?
"I literally can't believe the price differences!
"These are literally the same products, however you're saving over £25 by shopping them in B&M!
"B&Q definitely had a bigger variety and loads more paints etc but it's definitely worth checking whether B&M stock it before you pay B&Q prices."
"Wow! That varies so much!" one person commented on the video.
"I know where I'm going, we've got a whole house to decorate this year."
As another added: "thanks for this. I'll try B&M next time."
While a third wrote: "B&Q have gone mad recently, I needed some hose adapters, £2.98 for a multipack in Toolstation or well over £20 in B&Q."
Source: Read Full Article