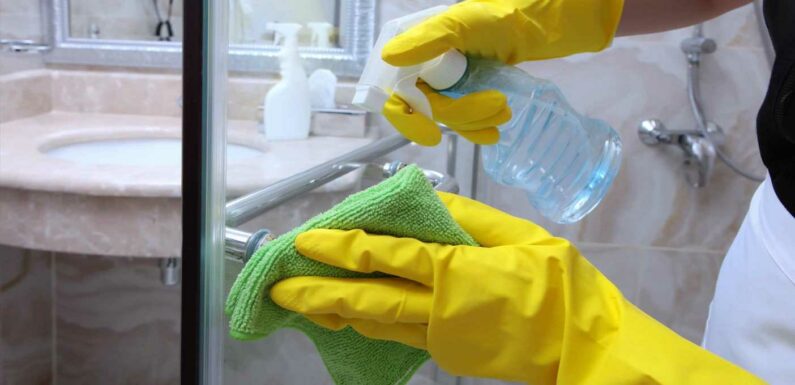 PESKY watermarks can easily build up on a shower screen making it look scaly and unclean.
Even after having a good go at them with a sponge, it can be tricky to stop the glass from looking grubby and smeared.
But if you're stuck in this dilemma don't stress, because the most dedicated cleaning fans are on hand with some expert – and very low cost – advice.
Followers of cleaning sensation Mrs Hinch shared their genius tip for getting shower screens sparkling again.
Taking to a Mrs Hinch fans Facebook group, Wendy Jones said: "Hi, what is the best way to clean a clear glass shower screen, please? I've done it four times today but it's still not right!"
Cleaning fanatics rushed to Wendy's aid with plenty of savvy suggestions, but one stood out as it was recommended by so many people.
Read more on cleaning
Mrs Hinch fans share the savvy ways they reuse their tumble dryer water
Mrs Hinch fans share easy way to keep your black jeans from fading
One person said: "I use white vinegar and washing up liquid.
"Spray it on and leave it for a while then scrub it with a green scourer, rinse and buff. Should be like new. Make sure your window is open."
FABULOUS BINGO: Get a £20 bonus & 30 free spins when you spend £10 today
Another said: "Loads of washing up liquid works for me."
A third said: "Fairy with hot water always works best for me."
Most read in Fabulous
I worked in a nursery & it convinced me I'd never put kids in one
Mum slammed for the meal she's made for her kids – people call it 'traumatising'
I don't use loo roll, we have Family Cloth instead – we make it from old PJs
Dog expert reveals the three small dog breeds he would never recommend
Another said: "Fairy liquid then rinse and buff – works every time."
While another agreed: "Fairy liquid hot water and a squeegee then buff it up with kitchen roll."
And another said: "I use vinegar and washing up liquid. Spray on, wipe then leave and then wipe with another cloth."
Washing-up liquid is usually knocking about in your kitchen, but if you don't have any to hand you can grab yourself a bottle from the supermarket for pennies.
Both Asda and Morrisons are selling their budget versions for just 37p.
Source: Read Full Article