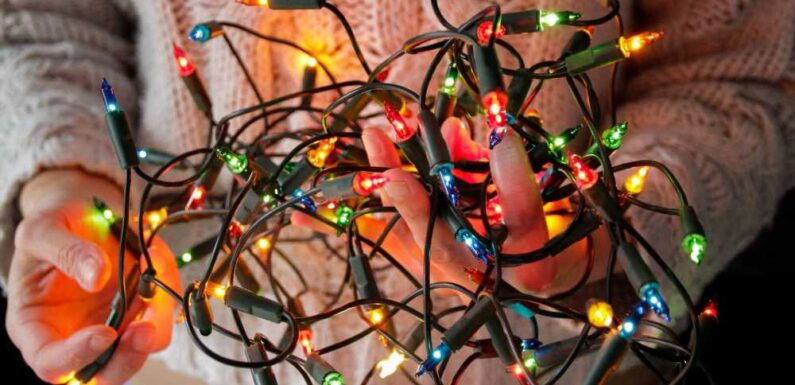 SURPRISED Brits are finding out a genius way to untangle your Christmas lights using a 5p item.
It's time to get your home looking festive – which means dragging the dusty old box of decorations out.
With just a few weeks away from the festive season, Brits will be spending hours unpacking their Christmas lights.
But what should be a joyful and fun family experience can become a nightmare if you don't know how to untangle them correctly.
Luckily, decor experts have revealed a genius way to avoid the dreaded mess.
Professionals at Sunnydaze Decor have listed an easy-step guide that will help you keep them organised.
READ MORE FABULOUS
FIR REAL
I'm spending benefits cash on £10k worth of Xmas gifts for kids – who cares?
LOO KNEW?
Woman sparks debate after admitting she leaves the door open to pee
All you need is a pen or pencil – which you can snap up for 5p at your local supermarket.
First, spread out your lights in a large room so you can see all the knots properly.
The experts said: "A good place to start when it comes to untangling your string lights is to first locate the plug.
"Then, try to find the plug at the end of the cord. Gently work the plug through the knots. Don't pull too hard as that can damage your lights."
Most read in Fabulous
MYSTIC MEG
Mercury collaborates with Neptune in ways that soften your tough financial side
DRESS STRESS
The latest viral dress breaking the internet – can you figure it out?
SKIN DEEP
Plus-sized mum leaves people stunned on day out 'with no trousers on'
FIR REAL
I'm spending benefits cash on £10k worth of Xmas gifts for kids – who cares?
Once you spot a stubborn knot, insert the end of the pen or pencil toloosen the knot enough so you can pull it apart with your fingers.
But your lights can easily bunch up again while you were working on a different section of the strand.
For this, you need to organise your untangled lights in straight lines, or wrap them around your arm as you go.
The experts added: "Once you've successfully untangled your lights, there is one final step you must take before you hang them on your tree or house.
"Check the lights to ensure that they are glowing brightly.
"If you do spot a dud here or there, you can find replacement bulbs at your local hardware store."
There are other ways to prevent your decorations from tangling again.
Experts recommend to find someone to help you decorate your home.
"While one person works on hanging the lights, the other person is responsible for keeping the rest of the strand organised and feeding the lights to the other person," they explained.
It comes as a 'genius' mum wrapped her decorated Christmas tree in cling film to save hours of frustration.
Trudy McDougall Alexander has revealed how her 71-year-old mum saves hours when it comes to packing away her festive tree by wrapping the entire thing before dragging it into storage.
Read More on The Sun
LIVE AGAIN
Legendary BBC comedy show returning to screens 20 years after first ever episode
LOU'S MAN
Louise Redknapp goes Instagram official with new boyfriend Drew Michael
Meanwhile, experts revealed the easy ways to store your Christmas decorations and save you time and space too.
Ben Wightman, from Christmas Tree World explained how to store them all correctly so you can keep on using them year after year.
Source: Read Full Article