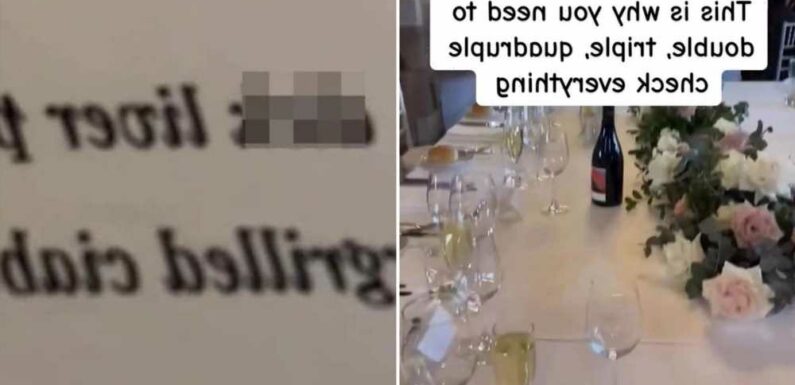 EVERYONE loves a wedding, and the meal is one of the most anticipated moments of the day.
But for those who attended a recent wedding probably steered clear of one of the starter options, due to a very unfortunate typo on the menu.
Wedding planner Ria took to TikTok to share a video which showed the menu on the table.
At the top was written "To start: Chargrilled quail, local hunter valley sticky bbq marinade, petite egg noodle salad, jus".
Or guests had the choice of having some aged bresaola, and it was here the typo occurred.
Instead of printing that the meat came with duck liver pate, they'd accidentally put an "i" instead of a "u" in "duck".
Read more Wedding stories
I splashed thousands on my wedding dress but swapped it just before my big day
Brides rush to buy half price bargains in Paperchase with prices from £3
"This is why you need to double, triple, quadruple check everything," Ria wrote over the top.
"Mistakes happen," she added in the caption.
And people couldn't wait to poke fun at the typo in the comments section, with one writing: "That's the honeymoon menu."
"I wanna know who's having seconds," another added.
Most read in Fabulous
King Charles announces new Duke of Edinburgh – and other royal titles
I turned a £55 IKEA unit into a bunk bed for my daughter – it was so easy
I work at Aldi – what's on special today including a Shark hoover dupe
I've put my 18-month-old in nursery… people say he's too young, I need a break
"that probably is made for the singles table only at the wedding," a third joked.
"I'll take two for here, and three to go please! Thank you," someone else laughed.
"Best menu everrrrrrr," another wrote.
"I think I'd rather have that than Duck Liver Pate," someone else said.
As another commented: "That's what i'd serve if I get divorced."

Source: Read Full Article