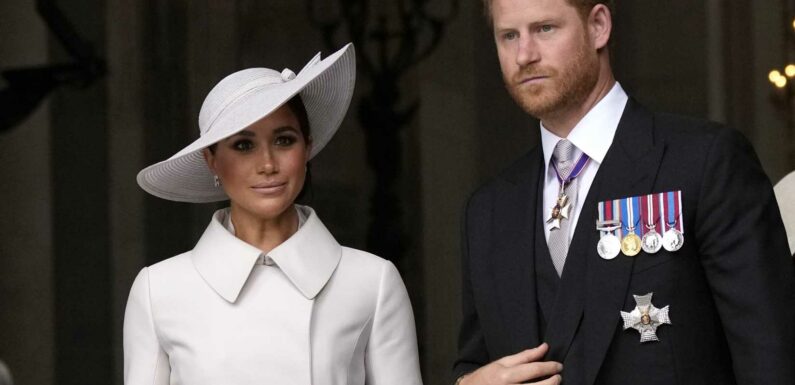 PRINCE Harry has accepted the King's invitation and WILL come to his coronation – without his wife Meghan Markle.
The couple's attendance had been up in the air since they unleashed a string of explosive truth bombs about the Royals.
On March 4, it was revealed they'd made the cut, after Harry received an email from his dad's office.
But the RSVP deadline of April 3 passed without the pair confirming their attendance with the Palace.
However, nine days later, it was today confirmed that the Duke of Sussex will come alone, while Meghan and the kids stay at home in the US.
A Palace spokesperson said: "Buckingham Palace is pleased to confirm that the Duke of Sussex will attend the Coronation Service at Westminster Abbey on May 6.
READ MORE ROYAL NEWS
Harry and Meghan respond to invite to King Charles' coronation – key dates
9 bombshells from latest royal book – Harry's 'fury' & Meghan's 'curt' reply
"The Duchess of Sussex will remain in California with Prince Archie and Princess Lilibet."
Archewell, Harry and Meghan's charitable foundation, issued a near identical statement.
The King's coronation takes place on May 6 – the same day as their son's fourth birthday.
Close pal Omid Scobie said this was a factor in the couple's decision to be apart.
Most read in Celebrity
Harry and Meghan respond to invite to King Charles' coronation – key dates
9 bombshells from latest royal book – Harry's 'fury' & Meghan's 'curt' reply
I helped my son have a baby AFTER he died – now I'm 68 and changing nappies
Pregnant mum-of-6 Paris Fury enjoys Alton Towers playdate with Molly-Mae & Tommy
He added: "Expect it to be a fairly quick trip to the UK for Prince Harry, who will only be attending the coronation ceremony at Westminster Abbey."
The dad-of-two has reportedly spent weeks debating whether to travel to the UK for the historic event as the rift within the Firm deepens.
He was understood to be holding out for an apology from his relatives, which he requested during TV interviews to promote his book in January.
There is thought to have been no meaningful contact from either side in the months since, with everyone too busy to see Harry during his surprise visit to attend a High Court hearing last month.
The duke's presence at Westminster Abbey will see him join his family for the first time since the Queen's funeral in September.
But he will not be able to stand alongside many of them on the Palace balcony as he is no longer a working royal.
The King and Queen Camilla will arrive at the coronation in a smooth, modern horse-drawn coach – then return to the Palace in a 1762 bone-shaker.
They will go from the Diamond Jubilee coach, with comfy seats and shock absorbers, to the Gold State Coach, whose ride was described by Queen Victoria as "distressing".
They will be followed by a "final group of 15" who will represent the "heartbeat and future of [the] family", according to reports.
Insiders revealed that the group will only include working royals, meaning there is no place for Harry or Prince Andrew.
William and Kate, the Prince and Princess of Wales, will be on the balcony alongside their three children – Prince George, nine, Princess Charlotte, seven and Prince Louis, four.
There was said to have been a delay in sending out the invitations due to a power struggle at the heart of the Government.
A source told the Telegraph that key decisions about the big day had been held up as the Cabinet Office and the Department for Culture, Media and Sport (DCMS) "wrestled" over control. 
It comes as…
It's been warned Charles won't be able to have a strong relationship with his grandkids Archie and Lilibet after evicting Meghan and Harry from Frogmore Cottage
The 'real reason' why Charles kicked the couple out of their UK home has been revealed
Netflix bosses are said to want Harry at the coronation – to give them a new TV hit
Harry launched a fresh attack on Charles just last night, saying he grew up in a 'broken home'
Prince Andrew 'doesn't want to leave' Royal Lodge for Frogmore
A question mark hung over Harry and Meghan since the Duke lobbed "truth bombs" at the Royal Family in his explosive memoir.
The couple were said to have been given eviction orders from Frogmore Cottage just 24 hours after Harry's tell-all biography Spare hit shelves.
He then launched a fresh attack on his father in his first interview since his Frogxit eviction.
The duke, 38, slammed his "incredibly painful" childhood and complained of being starved of hugs and attention.
He told physician Dr Gabor Maté during a £19-a-ticket global livestream to promote his book that he had to move his family to the US to break the "cycle of pain".
He was also likely to trigger renewed anger from the Royal Family with a jibe about his upbringing.
His Hungarian-Canadian interviewer said the royal had grown up in an environment where there was a "lack of child being held".
Dr Maté added of the late Queen: "At some point you wanted to hug your grandmother but it wasn't done."
The royal, who was 12 when Charles divorced his mum Diana, said in the fireside chat: "I did have an incredible childhood, elements of it, and elements of it were incredibly painful."
Events for the coronation will start on May 6 and continue over May 7 and May 8, which has been declared a bank holiday.
The action-packed weekend will see Charles and newly titled Queen Camilla arrive at Westminster Abbey in The King's Procession on Saturday morning.
The route measures 1.3 miles — around a quarter of the length of the late Queen's five-mile celebratory journey.
This will be followed by the coronation service conducted by the Archbishop of Canterbury.
Read More on The Sun
My son was 'edited out' of school picture 'for ridiculous uniform breach'
Britain's Got Talent rejects who went on to find success after failed audition
The service will "reflect the monarch's role today and look towards the future, while being rooted in longstanding traditions and pageantry".
After the service, the newly-crowned King and Queen will return to the Palace in a larger ceremonial parade known as the Coronation Procession.
Meghan and Harry's biggest bombshells
MEGHAN Markle and Prince Harry have released a string of insights into their life within the Royal Family since Megxit.
Their comments have put their relationship with the Firm under strain.
Here, we detail some of the biggest revelations that have put them under the microscope.
Meghan and Harry suggested they had faced racism in the Royal Family during their interview with Oprah, claiming they were asked about Archie's skin colour before he was born
In his book Spare, Harry claimed his brother William attacked him during a row over Meghan
He also revealed he had feared Camilla would be his 'wicked stepmother'
Harry claimed Meghan was left 'sobbing' on the floor after a fight with Kate Middleton
Harry described growing up in a 'broken home'
Source: Read Full Article