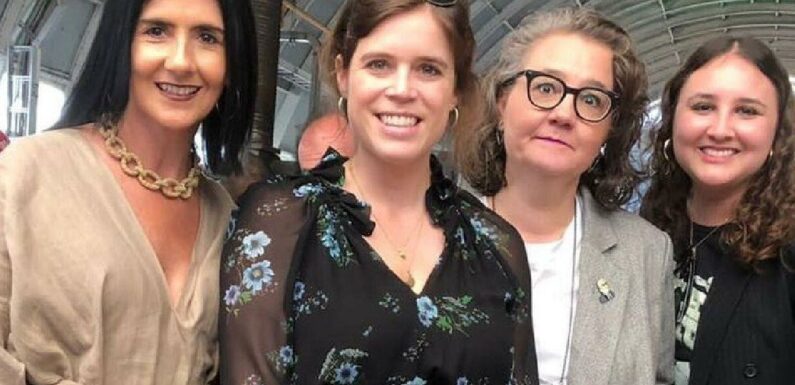 We use your sign-up to provide content in ways you've consented to and to improve our understanding of you. This may include adverts from us and 3rd parties based on our understanding. You can unsubscribe at any time. More info
Princess Eugenie has been in Mexico for two days, visiting Zona Maco in Mexico City as part of artistic activities. This is because the Princess is the associate director of the Hauser and Wirth Art House and was one of the great guests at the inauguration of Zona Maco in 2023.
On Monday, the Princess looked gorgeous wearing her Claudie Pierlot "Romilly" Floral Dress which originally cost £152.50.
This is one of the first occasions Princess Eugenie has been seen since she announced she was pregnant a few weeks ago.
The dress she wore in Mexico is no longer in stock, as Princess Eugenie has owned the item since 2019.
This shows the versatility of the dress, as it can be worn as a maternity gown and also when you're not pregnant.
The description for the dress formerly said: "Bring out the bohemian babe in you with this floral print chiffon dress from Claudie Pierlot.
"It's cut to a fluid, flouncy shape with a keyhole slit at the front and frilled trim at the neck, cuffs and echoing waterfall hem.
"A D ring fastening waist belt effortlessly cinches your silhouette.
"Opt for tousled hair, a micro bag and block-heel ankle boots to continue the free-spirited mood."
The Princess paired her dress with a MUUÑ "Mina" Straw Bag. This bag costs €186, which equates to roughly £164 in British Sterling.
Eugenie's accessory is a straw bag with a removable pouch that can work as a hand and shoulder bag.
The description says: "The straw base is hand-weaved with resistant elephant grass, taking two or three days of work.
"This bag is finished and assembled in our workshop in France. Inside pouch is sewed by people with disabilities working for ISTA.
"As MUUÑ bags are handmade products, each weaving is unique, variation of size, form, colours may happen."
On Wednesday, the Princess wore a beautiful This Is Whistles "Dalmatian" Shirred Midi Dress for £149.
Its description says: "Animal prints are still at the fore of our minds as we enter the high summer season, and this chic dalmatian print dress is a must-have.
"Throw on a lightweight jacket and step into a pair of sandals to keep things on-trend and nonchalant."
The dress is fitted at the waist, with a looser fit through the skirt. Once again, the Princess accessorised with her MUUÑ "Mina" Straw Bag.
Source: Read Full Article