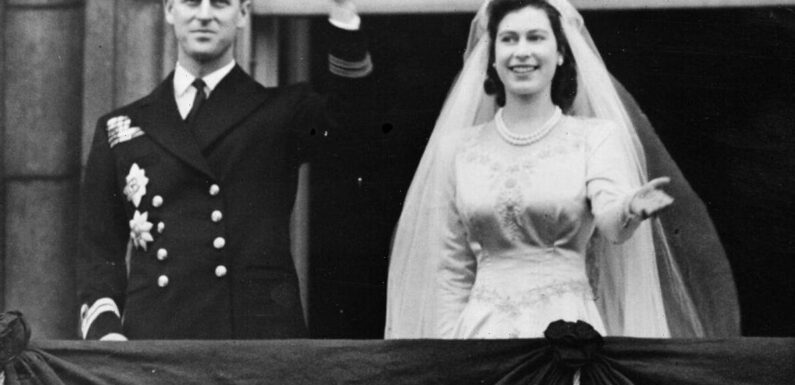 Queen Elizabeth II: Corgis walk through Speyer to honour monarch
We use your sign-up to provide content in ways you've consented to and to improve our understanding of you. This may include adverts from us and 3rd parties based on our understanding. You can unsubscribe at any time. More info
Post-World War II, Britons lived in austerity as the Government still recovered from the Blitz and rationing continued to affect families – even the Royal Family. Not even Princess Elizabeth was free from rationing during the run-up to her wedding day.
Despite being the future Queen, Elizabeth had to save up clothing coupons to purchase her wedding dress.
She was granted 200 extra ration coupons for the celebration, but her fans didn't think that was sufficient – they sent the Princess their own through the post.
However, each one was returned to its sender with a note, as it was illegal to transfer ration coupons at the time.
In the end, Elizabeth made the coupons she already had work. Her dress was made of ivory silk and decorated with 10,000 seed pearls.
Interestingly, the garment was approved only three months before the wedding. Its designer, couturier Norman Hartnell, wanted it to be "the most beautiful dress I had so far made".
The dress was made with silk from China, and its 15-foot train was inspired by Bottielli's painting of Primavera from 1482. It was covered in flowers, including jasmine, smilax, seringa, and rose-like blossoms.
It was meant to symbolise "rebirth and growth" in Britain following the war, according to the Royal Collection Trust.
Betty Foster, who was one of the 350 women who made the dress in seven weeks, went to see the dress again, years later, when it was on display at Buckingham Palace in 2007.
DON'T MISS:
Avoid 'one of the biggest mistakes' with your hair [ANTI AGEING]
Common feature on teeth that makes you look older [EXPERT]
'Amazing' before and after hair loss transformation [PICTURES]
She said at the time: "I had forgotten how beautiful it was, with that exquisite train – and how small the Princess was.
"On my way home from the wedding celebration, I remember everyone on the train was talking about the dress and I felt so proud to have worked on it."
On her wedding day, the Queen combined the dress with a pair of embellished satin heels made by Edward Rayne.
She also wore a crown, which held her silk tulle veil in place.
One of Elizabeth's bridesmaids, Lady Pamela Hick, previously told People: "With her bridal dress and tiara on her wedding day, she was a knockout. And, of course, Philip was every girl's dream Viking prince."
Speaking of the coupons sent to the future Queen, Lady Pamela said: "It showed how people wanted to be involved."
While Elizabeth's dress was satin with tulle embroidered flowers, the bridesmaids' dresses were the reverse, mostly made with tulle and little satin flowers.
Lady Pamela explained: "Tulle could easily be acquired, whereas duchess satin was so difficult to get in those days."
She added: "The Princess had that marvellous complexion – that skin was so wonderful. She really was radiant, with her diamond tiara on top. And she was very much in love."
Philip asked Princess Elizabeth to be his wife a few months before their wedding, presenting her with a three-carat engagement ring.
It featured a central circular diamond with smaller diamonds on either side of it. The Duke of Edinburgh reportedly designed the ring himself – the diamonds were from a tiara owned by his mother, Princess Alice of Battenberg.
The Princess likely gave her son the tiara in 1946, knowing that he would soon propose to Elizabeth. The Prince then helped to design the ring alongside London jewellers Philip Antrobus Ltd.
Many diamonds were pulled from the tiara and Philip used the excess to design a bracelet for his wife. This too was a gift for her before her and Philip's wedding in 1947. Elizabeth went on to wear the bracelet on many an occasion.
Source: Read Full Article