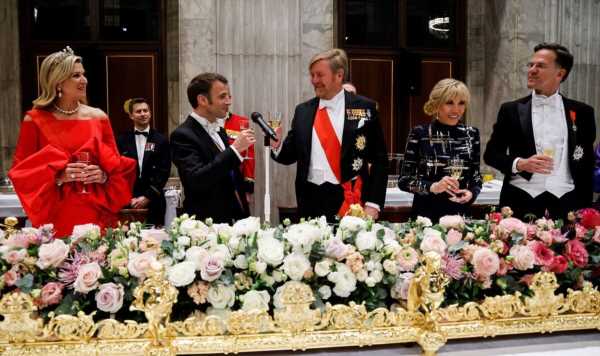 As part of Emmanuel Macron and the French First Lady Brigitte Macron's state visit to the Netherlands, an official banquet was held to welcome the French President to the country. For the occasion, the Dutch royals looked more glamorous than ever, especially Queen Maxima, while Brigitte Macron opted for a discreet ensemble. Some royal fans commented on the unusual sleeves on Queen Maxima's gown.
Get the latest royal news straight to your phone by joining our Whatsapp community! 
For the royal state banquet, Queen Maxima of the Netherlands looked regal in a red floor-length gown designed by Claes Iversen.
The off-the-shoulder dress featured maxi puffy sleeves and the Dutch Queen accessorised it with an embellished red satin clutch from Valentino.
She donned the magnificent Antique Pearl Tiara, a maxi pearl necklace and earrings as well as her Grand Cross of the Order of the Legion of Honour.
Royal fans absolutely loved Queen Maxima's look but many criticised the size of the gown's sleeves.
On Instagram, @sarah_o_key said: "Yet again Queen Maxima knocks it out of the park.
"I can not think of another person, royal or otherwise who could slay in the dress with those sleeves and that colour, and the jewels are perfection!"
Another one, @paulabfbaptista, commented: "I wish the sleeves were less puffy, however, Maxima is the only one that can pull it off."
Royal watcher @sabsgiovese added: "I am not always a great fan of Maxima's outfits and especially of her 'daily' hair but one is for sure: she really can do state banquets!"
Don't miss…
Kate may have 'delicious' breakfast food every day to lose weight[DIET]
Kate's gesture to Prince William put her 'in the role of control'[BODY LANGUAGE]
Danish royals pose for portrait in 'midlife crisis' shoes, claim fans[STYLE]
Royal fan @redheadcagrl agreed and commented: "Now she looks stunning! Red looks amazing on her! Love all the jewels too!"
"This queen just continues to amaze with all the beautiful details. Those sleeves have me stunned! The jewellery is gorgeous. The sash – everything is so beautiful," @luxmeagainpreloved added.
Others opined that it was probably difficult for the monarch to eat or drink at the banquet wearing those sleeves.
Instagram user @goosegirlenfys said: "If the sleeves were padded with feathers, they'd make a lovely pillow if the speeches drag on!
"Maxima really knows how to do drama and showstoppers with her gowns," they added while another one joked saying that the sleeves could also be used as "arm flotation devices".
"How do you eat with these sleeves? How do you wash them? Iron? Only Maxima can pull this off!!" said @ale_campos_gua.
Social media user @pamela.limpscomb.3 commented that the Dutch Queen looked "lovely" but added: "Personally, I would find those sleeves difficult if I would be eating a meal."
Another one, @birdnerd327, claimed on Instagram: "These sleeves are just ridiculous. I do like everything else, especially all the pretty baubles."
Many other social media users loved the regal outfit with one saying: "How dramatic and beautiful the dress is!"
Brigitte Macron, on the other side, opted for a discreet navy dress with a white pattern on the bodice and sleeves.
The French First Lady carried a navy clutch bag, wore a pair of pearl drop earrings and styled her hair in an effortless chic low bun.
Emmanuel and Brigitte Macron arrived in the Netherlands earlier this week when the Dutch royals welcomed the couple outside the Royal Palace in Amsterdam.
Source: Read Full Article