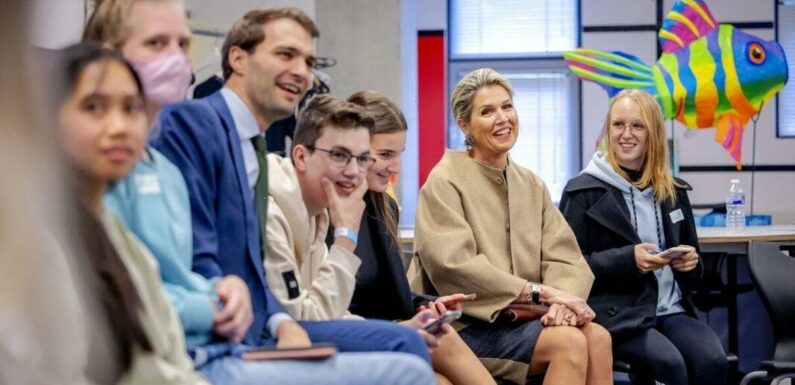 Maxima joined the Dutch Secretary of State for Health, Welfare and Sport yesterday, November 3, to speak to children at the school. For the visit, she opted for an unusual outfit, demonstrating her love for fashion and style risk-taking.
The Dutch Queen always looks impeccable wherever she goes, choosing pieces that one wouldn't always think would go well together but, somehow, do on her.
Maxima donned a dress that looked like a separate top and separate skirt – the bodice was burgundy, while the skirt was a dark grey.
The bodice was made out of pony hair, while the skirt was wool.
The dress had a high, round neckline, and its bodice was tight and sleeveless.
We use your sign-up to provide content in ways you've consented to and to improve our understanding of you. This may include adverts from us and 3rd parties based on our understanding. You can unsubscribe at any time. More info
The skirt was also tight and reached Maxima's knees. She wore it without tights, showing off her bare legs.
The dress was the Ponyhair and Wool Dress in Burgundy/Grey by Belgium-based designer Natan Couture.
On its website, Natan had previously described the dress, saying: "Dress with a top made of burgundy pony hair at front and beige wool twill at back and with a skirt made of heather grey broadcloth at front and beige wool twill at back."
It is no longer available to buy, though, as Maxima has had it in her wardrobe since 2015.
DON'T MISS:
'I was miserable' – Fergie shares how she 'lost close to 50 pounds' [INSIGHT]
Sarah Ferguson shares her unusual nickname for Queen Elizabeth [ANALYSIS]
Princess Beatrice wraps up in colourful coat [PICTURES]
She last wore the piece on March 19, 2015. Maxima matched the dress with an accessory from Natan Couture too: the Ponyhair Envelope Clutch in Burgundy Red.
This matched both the material and colour of the dress' bodice.
Her shoes were also by the same designer. These were pointy heels, called the Bicolour Ponyhair Pumps in Burgundy/Grey.
The heels were unusual as they were in two tones – half the shoe was grey, while the other half was burgundy.
To complete her outfit, Maxima donned a casual, beige jacket, which was collarless and featured large buttons running down its centre.
It was a relaxed fit and the sleeves were slightly baggy. The Dutch Queen also wore huge, dangling earrings, a watch, and her diamond engagement ring.
Royal fans were quick to comment on Maxima's look, noting her love for taking fashion risks.
View this post on Instagram

A post shared by ROC Friese Poort (@rocfriesepoort)
Instagram user @disneymumof2 wrote: "Only Maxima could pull this off!"
User @plbatch56 said: "She is just so elegant and classy, love her style."
User @ellainthecityboston commented: "Very Maxima and she can pull it off. Bravo for taking risks, Maxima."
User @k_zouzou added: "Maxima is exuberant and we love this!"
Source: Read Full Article