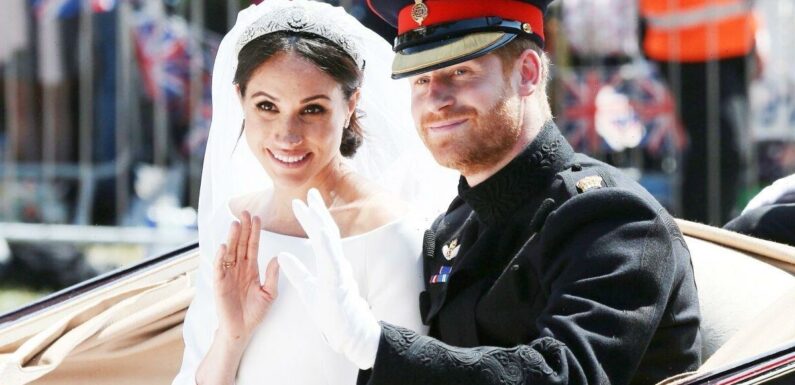 Meghan Markle's wedding tiara: Queen Mary's Bandeau
We use your sign-up to provide content in ways you've consented to and to improve our understanding of you. This may include adverts from us and 3rd parties based on our understanding. You can unsubscribe at any time. More info
Meghan Markle originally chose to wear a controversial tiara on her wedding day, according to a style expert. Fans around the world are in awe of the British Royal Family's collection of tiaras.
This is no surprise, as they are known for being among the most expensive pieces of jewellery in the world.
One of the most expensive tiaras was worn by Meghan Markle when she married Prince Harry on May 19, 2018.
However, the timeless headpiece apparently was not the Duchess of Sussex's first choice.
Fine jewellery experts at UK retailer Steven Stone have taken a close look at the tiara and have shared the reason why the Duchess was deprived of her first choice.
Maxwell Stone, the Creative Director at Steven Stone commented: "Reportedly, Meghan Markle visited Queen Elizabeth at Buckingham Palace to choose what tiara she would wear on her wedding day.
"The tiara she ended up wearing belonged to Queen Mary, who was married to King George V and is Queen Elizabeth's Grandmother."
The jewellery expert expanded on the details of the tiara and how much it is estimated to be worth.
Mr Stone added: "The centre stone featured in the tiara is actually a brooch, comprised of 10 diamonds and which Mary of Teck received as a wedding gift from the County of Lincoln in 1893.
"In 1932, the diamond and platinum bandeau tiara was specifically made to accommodate the brooch.
"A piece like this is likely to be worth at least £2million."
According to Mr Stone, this tiara was not Meghan's first choice, as she reportedly preferred another tiara.
He explained: "However, Queen Mary's Bandeau tiara wasn't Meghan's first choice from Her Majesty's collection.
"According to the royal historian, Robert Lacey, she wanted to wear an emerald and diamond tiara on her wedding day."
Mr Stone claimed this was because of the diadem's controversial past.
He opined: "The Queen did not allow the Duchess her choice due to the headpiece being tied to controversy.
"It was thought to have come from Russia, and the treasure is said to have found its way into the collection through undefined channels."
Meghan paired her tiara with a luxurious Givenchy wedding dress designed by Clare Waight Keller.
The dress cost a reported £120,000, and the Duchess was said to have paid for the gown herself.
The royal wore matching Givenchy shoes for £675 and Cartier earrings for £3,500.
Finally, she accessorised with a Cartier bracelet that cost a whopping £150,000.
Source: Read Full Article