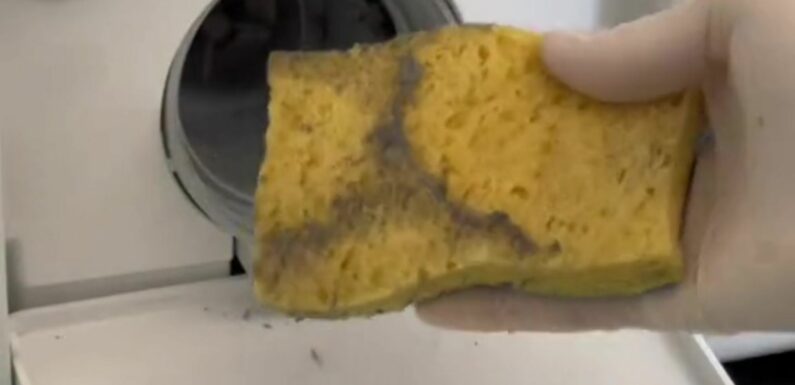 A WOMAN has revealed a 'genius' trick to help keep your floors dry when emptying your washing machine filter – and it'll cost you just 6p. 
Selda shared how she uses a child's nappy to soak up any water or grime – and she only needs one for the entire job. 
Known online as @seldaalbayrak61, the content creator regularly shares cleaning tips and home hacks with her 13,400 followers. 
In a new TikTok video, she is seen unfolding a nappy and laying it flat on the floor, before removing the filter from the front of her washing machine. 
Over this plays the viral sound, 'show me the life hack you randomly saw one day that is now an unconscious standard practice in your life'. 
At the end of the video, she reveals that while the centre of the nappy does appear to be a little damp, her floor has remained completely dry. 
MORE CLEANING TIPS
I spilled saucepan cleaner on the floor and found it's the best grout cleaner
I'm a cleaning pro and here's how to get rid of mould in your washing machine
With a pack of Aldi Mamia Ultra-dry Maxi Nappies costing just £2.99 for a pack of 48, this hack would cost shoppers just 6p per try. 
Fans loved the simple idea, with the video gaining more than 13,500 likes and 910,400 views. 
In the comments, other TikTok users shared their reactions, with one writing: "What what?! Genius level unlocked!"
Another put: "Why have I never thought of this!" 
Most read in Fabulous
Mum-of-22 Sue Radford in car crash which leaves family motor mangled
My 52-inch boobs are so massive they actually put men off
I was on £35 benefits – now I've got deposit for dream house, neighbours are fuming
I bought a tiny fluffy poodle but he kept evolving…he's now like a 15st horse
"Honey you're a genius!!!!! I'm gonna try this now," a third commented.
Someone else put: "And There's me using about 10 towels."
Although not all were fans of the idea, both due to the price and current demand for nappies. 
One wrote: "Oh hell no. Nappies are too expensive."
Another said: "Now more people who don't have babies are going to be buying nappies so even more of a struggle for us mums."
"Just use an old towel it's washable, reusable, and less expensive than nappies," someone else put. 
Source: Read Full Article