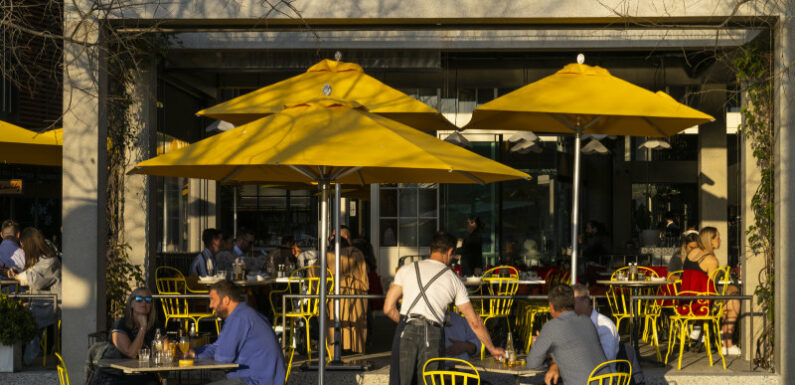 Save articles for later
Add articles to your saved list and come back to them any time.
A fifth of Australia's workforce will get a 5.75 per cent pay increase after the industrial umpire announced the wage boost to award-reliant workers to combat high living costs.
In a historic decision, Fair Work Commission president Adam Hatcher also changed a decades-old classification that means some 180,000 people on the national minimum wage will receive an 8.6 per cent rise.
The 5.75 per cent increase to workers on industry award rates will flow through to the pay packets of roughly 2.7 million people.Credit: Louie Douvis
The decision, to take effect from July 1, means Australia's lowest paid will see their hourly rate increase to about $23.22.
Hatcher said the decision was made in light of cost-of-living pressures being felt by Australia's lowest-paid workers and would not have "discernable macroeconomic effects".
"The current combination of economic circumstances, namely low unemployment, falling real wages and high inflation, is very unusual and presents a particular challenge in this year's review," he said. "A further challenge is the expected sharp slowdown in economic growth over the next year."
The decision follows months of debate over the appropriate increase. The government had called on the commission to ensure the real wages of those employed in the lowest bracket did not go backwards, while the union movement lobbied for a 7 per cent increase, in line with the current quarterly headline inflation rate.
However, the Australian Chamber of Commerce and Industry pushed for a 3.5 per cent rise, arguing anything higher risked pushing up unemployment and adding to other inflationary pressures experienced by businesses.
The 5.75 per cent increase to workers on industry award rates will flow through to the pay packets of roughly 2.7 million people.
"In determining this amount, the panel has placed significant weight on the impact of the current rate of inflation on the ability of modern award-reliant employees to meet their basic financial needs. Inflation is reducing the real value of these employees' incomes and causing households financial stress," Hatcher said.
He said there was no evidence of a wage-price spiral despite the tight labour market.
"Inflation is reducing the real value of these employees' incomes and causing households financial stress."
ACCI head Andrew McKellar said the decision would slug small businesses with a $12.6 million wages bill.
"Taking account of the 0.5 per cent increase in the superannuation guarantee from July 1, this represents a significant burden for small business and risks unlocking the floodgates for deep and prolonged economic pain," he said.
"The Fair Work Commission has made a dangerous choice to chase after the supply-side inflation shock that we are experiencing. An arbitrary increase of this magnitude consigns Australia to high inflation, mounting interest rates and fewer jobs."
Australian Council of Trade Unions secretary Sally McManus hit back at business claims the wage rises would hurt small businesses.
"Your workers are also your customers," she said.
"When minimum wage workers get pay increases, they spend it in your businesses. So the worst thing that could possibly happen, actually, would be more real wage cuts because they're very likely to be deciding not to spend in your shops because of it, because they've got no choice.
During a hearing on the annual wage review earlier this month, Hatcher said he was considering if "a perceived high figure emanating from this review might encourage or cause the RBA to hike interest rates again and leave some households worse off".
Workplace Relations Minister Tony Burke told Sky News last week Hatcher's comments went to the impact of the increase across the whole of the awards system.
"One of the things that was shown last year with the annual wage review is the commission sometimes, as they did last year, will give a higher percentage for the couple of hundred thousand people who are on the minimum wage and then cascade it to a lower percentage as you move all the way up the award system," Burke said.
Treasurer Jim Chalmers has previously said decent wages were part of the solution to easing cost-of-living pressures, and he did not expect higher wages to add pressure to inflation.
Earlier this month, Australian Bureau of Statistics figures showed workers had experienced the strongest annual wage growth in a decade. But it remains within Reserve Bank forecasts, tempering fears the larger pay packets will fuel an interest rate rise this month.
Professor Tim Harcourt, a UTS economist and former member of the commission's wage review panel, said the increase showed the commission clearly saw its role as safeguarding the living standards of Australia's lowest paid.
"They're making a bet that inflation is still transitory and they're playing catch-up," he said.
However, he said that in terms of macroeconomic effects, the focus should be on public sector negotiations with Labor governments across the Australian mainland, with unions potentially looking to the decision as a benchmark for bargaining.
Cut through the noise of federal politics with news, views and expert analysis from Jacqueline Maley. Subscribers can sign up to our weekly Inside Politics newsletter here.
correction
An earlier version of this article incorrectly said Australia's lowest-paid workers would receive a pay rise of 5.75 per cent. They will in fact receive 8.6 per cent.
Most Viewed in Politics
From our partners
Source: Read Full Article