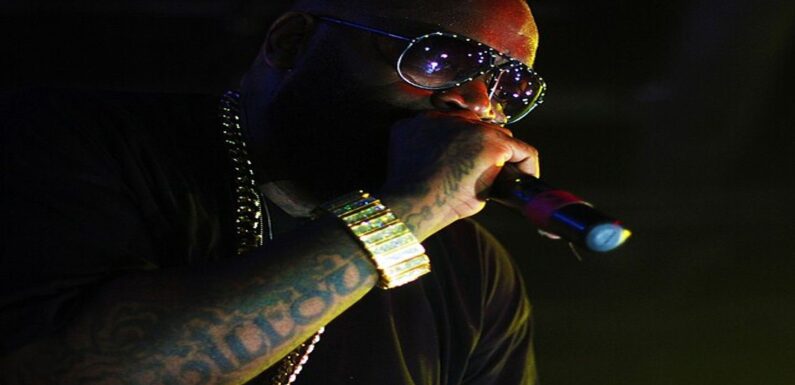 Whether or not the lifestyle he raps about living is made up or authentic, one can hardly assume that Rick Ross has any complaints when it comes to the opulence his career has afforded him. From an exquisite car collection to owning one of the largest mansions in Georgia – the Mississippi rapper is extravagant in his spending and truly lives up to the high-end habits of most hip-hop artists, such as rapper 2 Chainz, Gucci Mane, and Offset. But the Maybach Music Group (MMG) CEO doesn't only have a penchant for large mansion estates and luxury vehicles. Ross also likes to wear his wealth – from heavy gold chains, pendants, and diamond rings to a large collection of watches – Ross is king of flash. Here are some of the most expensive jewelry pieces inside Rick Ross' collection.
7

Diamond-Studded Gold Jesus Piece – $2 Million

A post shared by Biggest Boss Rick Ross (@richforever)

In case you're unfamiliar with the rap, the genre was founded on excessive flaunting and the spirit of competition, where the idea is to try and out-perform your opponent, whether through your rapping skill and delivery, the number of women you have, the price of your jewelry, or your lifestyle in general. One of the most famous pieces of jewelry nearly all rappers own is the Jesus piece chain, which originated in 1995 with Ghostface Killah from the Wu-Tang Clan. Since then, some of the biggest names in rap have sported the chain, from Notorious B.I.G. and Jay-Z to Yeezy and P. Diddy. But according to LAIE Jewelry, Ross went above and beyond with a massive 30-karat gold pendant covered with diamonds, hanging from an 18-karat gold chain, costing an estimated $2 million!
6

Rick Ross Face And Body Pendant – $1.5 Million

As we already established, Rick Ross is regarded as the Jewelry king of hip-hop, not merely because of the amount of jewelry he owns, but because of the unique styles he and designs he flaunts. According to 6ixice, Ross began wearing a self-portrait pendant in 2008, designed with fine details to Ross' exact features. The face pendant became so popular that, after a few years, he had another pendant made that was even more extravagant. This time, for $1.5 million, Ross had a customized pendant of himself wearing the same popular pendant of his own face! But Ross can afford to splurge on himself, especially when he has a net worth of $150 million, according to Celebrity Net Worth.
5

Rick Ross Original Face Pendant – $50k

There probably isn't another rapper in the industry with a pendant fashioned out of their own face in the same way as Rick Ross – the rapper Blue Face has a pendant of Benjamin Franklin, Offset has a pendant of a house, and Drake has a pendant of the OVO owl. But Ross steals the show with his $50,000 face pendant. The pendant was made from pure diamonds colored yellow and black to add to make the features, such as sunglasses, a goatee, and even diamond grills, appear more realistic. Whether the pendant was a braggadocious way of showing the world his wealth and success, or he was subtly stating that he is his own god – one thing for sure is that Rick Ross is in a league of his own.

RELATED: A Peek Inside Kevin Hart's Multi-Million-Dollar Watch Collection
4

High Tolerance Chain And Ring Set – $130k

A post shared by High Tolerance (@hightoleranceus)

People are well aware of Ross' fascination with fine jewelry, which is why earlier this year, as a token of his appreciation for having Ross headline the High Tolerance 4/20 Carnival in NYC, the High Tolerance CEO gifted him a High Tolerance logo ring and chain set. According to Complex, the pendant consists of 14-karat rose gold hung on a 19-karat diamond chain. The ring is 14-karat gold and is covered in 22 karats of F-colored diamonds. Altogether, the set costs a cool $130,000, which is probably one of the least expensive pieces of jewelry in Ross' collection. Nevertheless, who would turn down the offer of such an expensive gift?
3

Jacob & Co. Billionaire Ashoka – $2 Million

In addition to his expansive collection of chains, rings, and even designer sunglasses, Ross is also an avid watch enthusiast. He owns a number of watches from phenomenal watch brands, such as Rolex and Audemars Piguet, which are some of the brands you might find in Kevin Hart's watch collection. But one of his most outstanding luxury watches is the Jacob & Co. Billionaire Ashoka yellow-diamond watch. The masterpiece was crafted in 18-karat white gold and is fitted with 189-karats of Ashoka-cut diamonds, which Ross requested to be colored yellow. Among his pricey watch collection, this one comfortably heads the list with a cost of $2 million.
2

Patek Phillipe Nautilus – $600k

A post shared by Patek Philippe watches (@patekphilippe_watches)

Rolex is undoubtedly one of the favorite brands of luxury watches among Hollywood's elite class or actors and entertainers, but Ross' exquisite taste in watches led him to another watch brand that is less talked about, but just as luxurious – Patek Philippe. The Patek Phillipe Nautilus is crafted in 18-karat rose gold and adorned with factory diamonds, it's outward simplicity hides the intricate details and precision that has placed it among the class of other elite watch brands. It is a symbol of refined taste and status, which is why it has a price tag of $600k and is owned by those in the upper echelon of Hollywood, such as actor Brad Pitt, actor/comedian Charlie Sheen, and singer. songwriter, and guitarist John Mayer.
1

Rafaello & Co. Diamond Engagement Ring – $350k

A post shared by Biggest Boss Rick Ross (@richforever)

It's hard to believe that a ladies' man like Rick Ross would ever want to settle down, especially given the rap sheet of most rappers (no pun intended). But for Ross, marriage almost became a reality in 2015 when, according to Power 107.5, the Maybach Boss slipped a $350,000 11-karat emerald-cut diamond ring on the finger of former exotic dancer and hip hop model, Lira Mercer. At the time, she was just 21 years old, but age didn't seem to matter to her or Ross. However, shortly after the engagement was announced, their marriage plans were cancelled following a disagreement between the couple. At least they were wise enough to call it quits before it ended in one of those ugly Hollywood divorces we hear about all so often!

READ NEXT: Money Dance: A Peek Inside The Millionaire Lifestyle Of Rick Ross

Sources: LAIE, 6ixice, Celebrity Net Worth, Complex, Power 107.5

Source: Read Full Article