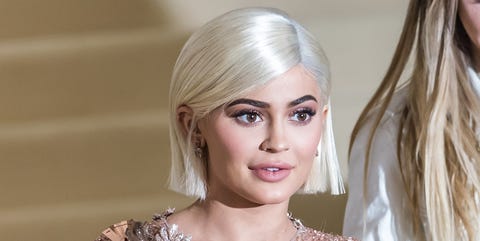 As you very well know, Kylie Jenner gave birth to her and Travis Scott's baby girl, Stormi Webster, in February (Aquarius season!) and announced the birth in a video that damn near broke the internet. But before Kylie actually became pregnant, she filmed a video, which is now resurfaced (bless!), of her celebrating not being pregnant at 19-years-old.
Please, take a look at the video posted by a fan account on Instagram:
https://www.instagram.com/p/Bm3vujlDbJm/?utm_source=ig_embed
not pregnant..and few months later ?
A post shared by kardashianclips (@kardashianclips) on
In the video, Kylie and her best friend Stassi Karanikolaou answered the question: Are you pregnant? Kylie responded, "I'm not pregnant. Never was." They both high-fived and Kylie continued, "We did it. 19-years-old and we're still not pregnant." Her friend Stassi then said how proud she is of both of them for not having babies yet, which makes sense.
But here's where things get interesting. If you scroll all the way back to October 2016 on Kylie's Instagram, you can see her with the same pink hair and sweater that she's wearing in the video.
See:
?
A post shared by Kylie (@kyliejenner) on
And if you remember, rumors of Kylie's pregnancy were going around in September 2017, but sources said she was likely pregnant four months before that. Kylie turned 20 in August of 2017, which means she was likely still 19-years-old when she found out she was pregnant.
Eagle-eyed fans were quick to point this out on Instagram and one wrote, "But she was couple weeks later?☕."
As funny and sorta cringey as this video is, tbh, it doesn't matter whether or not Kylie was expecting to have Stormi at 19. All that matters now is that Kylie and Travis love her and Kylie couldn't be happier. Kylie recently told Vogue Australia, "Creating life was one of the most beautiful moments in my life. It's hard to explain why, it's just when you experience it you understand. "
Source: Read Full Article