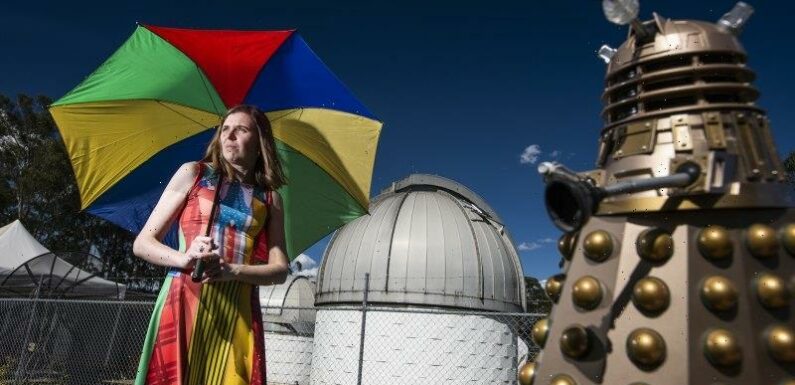 Australian fans of the world's longest running science-fiction show, Doctor Who, are reeling after waking up to the news the show will no longer be aired on the ABC, thanks to a new partnership between the BBC and paid streaming service Disney+.
Viewers who've tuned into the show on Aunty for decades have called the new deal, announced Tuesday between the BBC and Disney Branded Television, a "sellout" and are disappointed it spells an end to the series' free-to-air reign.
Lauren Davis, former President of Doctor Who Club of Australia. Her dress is a version of the Sixth Doctor's outfit and she is pictured with a replica Dalek. Credit:Steven Siewert
Doctor Who Club of Australia president Jon Andersen, who represents about 1000 members, said the series was "dinnertime family viewing, even in the modern age" and worried its relationship with audiences would now change.
"I think it is going to be a lot harder [to watch] going forward," Andersen said. "With all the increase in streaming services, I think you may see the series getting pirated far more."
The British series, first broadcast in 1963, has had 13 actors play the Doctor – an alien who appears as a human and travels through time and space with an assortment of companions to save various galactic civilisations from evil forces.
Long-term fans, known as "Whovians", fondly relate to the actor who played the eponymous hero when they first watched the series as "my doctor".
Tim Hunter, a Melbourne-based fan of the series since the 1980s, wakes up before work to watch new episodes on ABC iview to avoid spoilers. He said he considered Disney a "behemoth" taking over science fiction and fantasy titles including Star Wars and the Marvel Universe.
"My first impression was it is a bit of a sellout," Hunter said. "I just feel like it's going to be absorbed into the Disney universe."
However, some fans see a silver lining for the series potentially having a bigger budget, receiving more money than public broadcasters can offer, and reaching a wider global audience through Disney+.
"If more money can give it more support to make the show that we all want, then that's certainly better," said Lauren Davis, a Sydney-based fan and former president of the Doctor Who Club.
"Perhaps this may open the door for the ABC to consider doing its own sci-fi family drama that might fill the void."
Doctor Who fan Ben McKenzie is among disappointed viewers who learned the show would no longer be aired on the ABC.Credit:Wayne Taylor
Ben McKenzie, who co-hosted a podcast celebrating the series' 50th year, said its disappearance from the ABC after more than 50 years surprised and saddened him.
"Having it on the public broadcaster where everyone can watch it is great, and now it's gone to one of the many streaming services we feel we all have to pay for these days, which will restrict its availability. I think that's sad," McKenzie said.
"Also, there's the feeling that maybe there's not that special relationship between the ABC and the BBC that there used to be."
But the Doctor Who Club's president is confident the series' core appeal, sense of wonder and charming British aesthetic will remain under the new streaming deal thanks to Russell T Davies remaining the showrunner.
"As long as you've got people like Davies who are show-running and are familiar about the things that help make the series different from every other sci-fi out there, I think it will be fine," Andersen said.
"They are aware they need to maintain a certain British quirky quality to things even as they make it appear far more slick and financially loved than it ever used to look. I don't think really slick special effects are going to change it, as long as they keep the story elements."
Find out the next TV, streaming series and movies to add to your must-sees. Get The Watchlist delivered every Thursday.
Most Viewed in Culture
From our partners
Source: Read Full Article