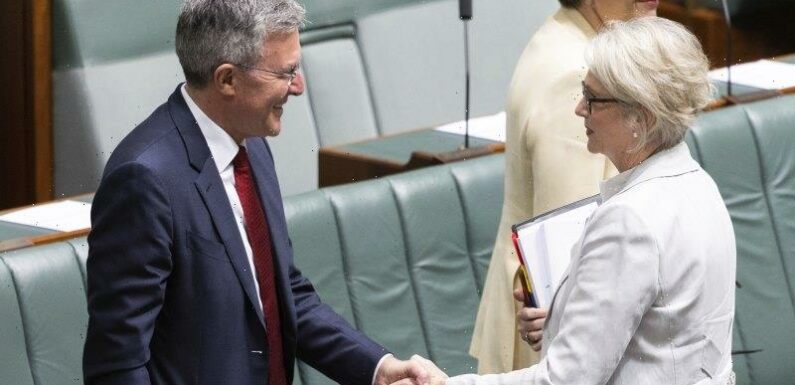 Advocates for a national anti-corruption commission have backed the federal plan but called for changes to rules on public hearings after seeing the first public draft of the law to set up the new watchdog.
Attorney-General Mark Dreyfus told Parliament on Wednesday the new commission would have the power to investigate "serious or systemic corrupt conduct" affecting any part of the federal public sector.
The independent member for Indi, Dr Helen Haines, shaking hands with Attorney-General Mark Dreyfus after he introduced the National Anti-Corruption Commission Bill in the House of Representatives.Credit:Alex Ellinghausen
"It will have the power to investigate ministers, parliamentarians and their staff, statutory officer holders, employees of all government entities, and contractors," he said.
"It will have discretion to commence inquiries on its own initiative or in response to referrals from anyone, including members of the public and whistleblowers. Referrals can be anonymous.
"It will be able to investigate both criminal and non-criminal corrupt conduct, and conduct occurring before or after its establishment."
The details emerged when Dreyfus introduced the bill to the House of Representatives, triggering the public release of the draft online after years of debate including three years in which the former government promised a national integrity commission but chose not to put a bill to parliament.
Transparency International Australia, a long-time advocate for the reform, welcomed the draft law but warned against a key part of the NACC legislation that it said would restrict public hearings.
"We are concerned the bar on public hearings is set too high," said Clancy Moore, chief executive of Transparency International Australia.
"Public hearings are essential for detecting and preventing corruption The risk that some important examples of corruption will be dealt behind closed doors and in secrecy is a blow for transparency."
Section 73 of the bill says the commission "must" hold its hearings in private unless the commissioner decides to hold one in public, saying this could be done if the commissioner is satisfied there are "exceptional circumstances" and it is in the public interest to do so.
Members of the Centre for Public Integrity, another advocate for the reform, said this raised concerns the NACC would be discouraged from pursuing open justice because the default position was to hold private hearings.
"Public hearings are almost always aligned with the public interest, and must be the default," said the CPI, a not-for-profit group set up by former judges and barristers with experience in corruption investigations.
"Exceptional circumstances should rather be required for a private hearing, not a public one."
Public hearings are a major sticking point for Liberal and Nationals MPs, who have been warning for some time of what they call the potential for a "trial by media".
Independent MP Zali Steggall rejected those fears as a "shameful attack" by the Coalition on the proposal, adding there was a greater level of transparency in the NSW state anti-corruption commission because it held more public hearings than its Victorian counterpart.
More to come.
Cut through the noise of federal politics with news, views and expert analysis from Jacqueline Maley. Subscribers can sign up to our weekly Inside Politics newsletter here.
Most Viewed in Politics
From our partners
Source: Read Full Article