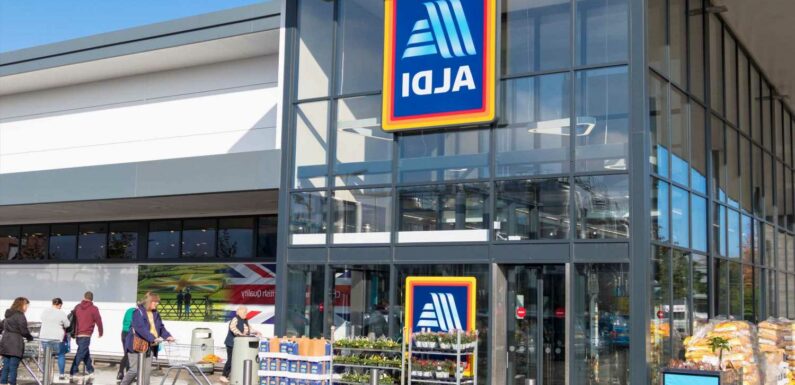 ALDI has announced a big change across all its stores – and it's good news for shoppers looking to nab a bargain.
The German discounter is extending its Too Good to Go scheme to all 990 UK branches.
Through the scheme, shoppers can get bags of surplus food known as "Magic Bags" for a fraction of the price.
The magic bags contain a range of grocery products including fruit, veg and bread approaching their sell-by or use-by dates.
But they are sold for £3.30 when the actual cost of the food is around £10.
Shoppers just have to download the Too Good To Go app and search for their nearest Aldi store.
Read more in Shopping
Full list of shops, pubs and banks closing this year – is yours affected?
M&S reveals popular £20 Valentine's Day meal deal including steak and prosecco
Then they can reserve a bag to collect from the chosen store at an allotted time.
You can find your nearest store by using Aldi's locator on its website and download the app on the Apple app store or Google Play.
It comes after the scheme was first launched as a trial in August 2022 across seven stores in the North East of England.
Aldi joins a number of other supermarkets running food waste reduction schemes.
Most read in Money
Martin Lewis reveals how to claim 20mths FREE travel & breakdown insurance
Martin Lewis Money Show returns as expert issues urgent tax warning for parents
Virgin Media went down leaving thousands of customers without access to internet
Urgent warning issued to all drivers filling up vehicles with petrol or diesel
Lidl operates its Waste Not scheme whereby shoppers can bag a five kilo box of fruit and veg for just £1.50.
The German retailer started trialling the bargain boxes in 2019 before rolling out the scheme to its 11,550 stores.
Asda, Aldi and Morrisons all relaxed quality specifications on some fruit and veg in 2018 to ensure less stock goes to waste.
Plus, Tesco unveiled its Perfectly Imperfect initiative in 2016 offering customers wonky food at risk of being wasted.
In October 2021, the supermarket announced the scheme had saved saved 44,000 tonnes of fruit and veg from being chucked in the bin.
How else can I save on my supermarket shop?
Beyond waste schemes, there's other ways you can save on the pounds and pennies next time you do a supermarket shop.
Making a list before you head out to do your food shopping is always a good start.
You'll be less likely to make any rash purchases or be enticed in by any offers.
You could try "downshifting" too, which involves going for supermarkets' own brand goods.
Martin Lewis says the trick could save you around 30% on your yearly shopping bill.
Meanwhile, checking how much a product costs based on quantity could save you some money.
You might be tempted to opt for a bigger box or packaging because you think you will get more.
But you should always check the price per kg/lb/litre so you're making a like-for-like decision.
Plus, a lot of supermarkets run loyalty schemes, where you can build up points to spend on a later shop.
For example, Sainsbury's has its Nectar Card and Tesco has its Clubcard.
Read More on The Sun
My healthy husband died at just 26 years old – the silent killer was in our home
Aldi fans are rushing to get new perfume dupes for as little as £1.99
In other news, a major high street retailer could "disappear from the high street" within weeks.
Plus, Asda shoppers are rushing to buy a winter essential for 60p that'll keep you warm.
Source: Read Full Article