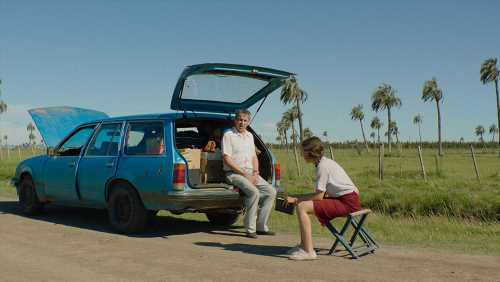 Paula Hernández's "A Ravaging Wind" ("El viento que arrasa") has debuted a poster and trailer ahead of its premieres at Toronto and San Sebastian.
Based on the novel by Selva Almada – and written by Hernández and Leonel D'Agostino – "A Ravishing Wind" will play Toronto's Centrepiece program, before opening San Sebastian's Horizontes Latinos, a showcase of many of the best Latin American movies of the last year. It sees Alfredo Castro as Reverend Pearson, an evangelical pastor who travels Argentina by car in the 1990s with his daughter Leni (Almudena González, seen in "Argentina, 1985"). When it breaks down, they end up at the auto repair shop run by Gringo (Sergi López) and his son (Joaquín Acebo).
Hernán Musaluppi, Santiago López Rodríguez, Diego Robino, Lilia Scenna, Natacha Cervi and Sandino Saravia Vinay produce for Cimarron, Rizoma and Cinevinay, while Film Factory Entertainment handles sales.
"When I was offered to adapt Selva Almada's book, Cimarron's producers emphasized my last works. When I read it, I understood why they had called me," Hernández told Variety.
Previously, she directed "The Siamese Bond" and "The Sleepwalkers."
"[It] portrays topics I am interested in: Families, descendants, space seclusion, inbreeding and the concentration of a few characters in a single space. But it also opened an unknown door, which was the religious, rural world. I am agnostic and fully urban. I had to get rid of my prejudices. I talked to pastors and their followers, and tried to understand faith in a whole new way."
Hernández didn't want to deliver another stereotypical take on a charismatic preacher, she noted.
"It would be limiting for the story. Pearson is someone much more complex than just a cliché, he is a fanatic with an overwhelming personality, who blindly believes in his mission."
Casting Castro – known for his collaborations with Pablo Larraín on "Tony Manero," "Post Mortem," "NO," "The Club" and the upcoming "El Conde," Venice Golden Lion winner "From Afar" or Chile's Oscar submission "The Settlers" – made things easier.
"Alfredo is an emotional actor with a great emotional intelligence," she said.
"When we wrote Pearson, we thought about a rockstar, showman, counsellor. A religious man who knows how to get another person to change their mind, manipulate their psyche and emotions. He is an egocentric, abusive, clever and manipulative man. He has been gifted with words and his statements are like precise daggers. Pearson knows when to wait and when to attack."
Preoccupied with his mission, he forgets about his daughter, who feels increasingly uncomfortable by his side.
"'You are my father, not my God': that's what Leni says in order to draw his attention. She is his assistant, helper, practically a servant. Their relationship is dependent and solitary, without any female role models around. There is no home: just a car and random motels," she stated.
"It's just the two of them and the rest of the world. In that universe, the ambiguity of their bond has disturbing and dangerous sides to explore, bordering on abuse. There is no abuse in sexual terms, but there is a lack of distance and boundaries. Pearson can share a bed with her if necessary and sees nothing wrong in that. He may be mistaken for her husband and he doesn't find that distressing."
However, their eyebrow-raising dynamic is put to the test when they encounter another equally lonely duo.
"They are locked up, with nothing else to do other than see each other, listen to each other and relate to each other," observed the director.
"The stories I have been working on in my last three films addressed topics related to the intimacy of the family universe. In 'The Sleepwalkers' and 'The Siamese Bond,' I focused on different forms of motherhood. This is also about motherhood, but based on its absence. Leni and Chango are raised by two fathers, who bring them up in solitude and in line with their own strong beliefs."
But they are slowly starting to question them, also thanks to that unexpected meeting in the middle of nowhere.
"The film is a trip, a road movie on the verge of a storm," said Hernández.
"Reverend Pearson and Leni are tireless, they barely rest. The possibility of stopping, due to a minor accident, allows them to see themselves and to be seen by others."
The clash of their two opposing universes will spare no one, but it might also bring about a much-needed change.
"Emancipation is never quick. I see it as a process that takes time. Although Leni still doesn't know where she is going, she might start asking herself that question."
Read More About:
Source: Read Full Article