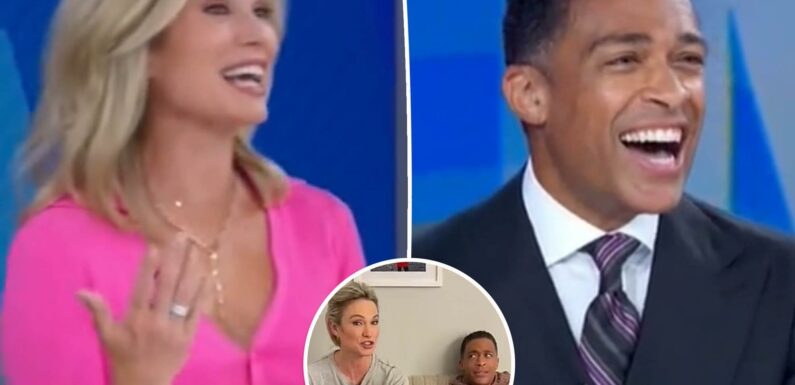 More On:
amy robach
T.J. Holmes, Amy Robach walk arm-in-arm after date amid 'GMA3' affair drama
Amy Robach, T.J. Holmes 'still together' amid ongoing investigation into affair
Amy Robach, T.J. Holmes keeping their distance amid affair backlash: report
T.J. Holmes, Amy Robach to remain off 'GMA3' amid internal investigation
Although Amy Robach and T.J. Holmes' alleged affair was only brought to light late last month, the couple were certainly very flirty with one another while still on-air.
Following news that the pair left their spouses for one another, multiple videos of the "Good Morning America 3" co-anchors teasing each other and even making sexual innuendos have since surfaced.
One of the most telling videos was taken back in March — when their romance allegedly began.
In the clip, Robach sat next to Holmes, who had spread out on the couch, to talk about their training for the New York City Half Marathon.
In another clip, as they discussed tips for better sleep, Robach claimed that Holmes preferred to sleep with a night light — which she called very "cute" and "endearing."
Later in the episode, Holmes even referenced going to wild parties at Robach's home.
While on-air, the pair also got into a lovers' quarrel when the 45-year-old seemingly got jealous that Robach had enjoyed co-hosting with Darien Sutton while he was on vacation in Florida.
"I was gone just a couple of days, I kept getting messages from her," Holmes said as Robach burst into a fit of giggles.
"'Take your time' is what I read," he joked before pointing across the desk at Sutton. "You know Dr. Sutton is gone after today, right?"
While the pair's affair seems so obvious now, ABC executives claim they had no idea the pair's friendship had evolved into something more.
"The producers at 'GMA' are shocked to hear they are having an affair," one staffer told Page Six at the time.
"They have a very cozy relationship on air, but that is what is expected. But they were very careful behind the scenes to keep their affair secret," they continued.
However, now that more information has come to light on the situation — including Holmes alleged numerous affairs with co-workers — ABC has removed both anchors from their typical 1 p.m. time slot.
There is no clear timetable as to if or when the two will be back on air depending on the internal investigation.
Share this article:
Source: Read Full Article