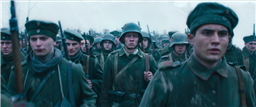 The 2023 BAFTA Film Awards longlists were unveiled this morning, and an unexpected frontrunner emerged in Netflix's wartime epic All Quiet On The Western Front.
The German-language film led the pack, appearing in 15 categories. The film was longlisted in all nine technical categories and nabbed an impressive set of appearances on the Best Film, Director, and Adapted Screenplay lists alongside a Film Not In English language nod.
Directed by German filmmaker Edward Berger, the film is a new take on the classic 1929 novel by Erich Maria Remarque. The film tells the story of a young German soldier, played by Felix Kammerer, on the Western Front of World War I as he learns how the initial euphoria of war turns into desperation and fear as he fights for his life. The pic debuted at TIFF. Daniel Brühl, Sebastian Hülk, Albrecht Schuch, and Anton von Lucke also star.
Related Story
BAFTA Film Awards 2023 Longlists: 'All Quiet On The Western Front' & 'Banshees' Lead, 'Avatar' & 'Empire Of Light' Miss Out On Best Film, Best Director Nods
Netflix's All Quiet showing is the largest haul a non-English language film has achieved during BAFTA's longlist voting stage, which was first launched in 2021. The previous most successful non-English language film on these longlists was Lee Isaac Chung's Minari, which appeared on eight lists.
While Bong Joon-ho Parasite remains the only non-English language film to win the Best Picture Oscar, international features have enjoyed an increasingly prominent position throughout awards season in recent years. Alfonso Cuarón took Best Film and Director at the 2019 BAFTAs for his semi-autobiographical epic Roma, and last year Ryûsuke Hamaguchi picked up three BAFTA nods including Best Director for Drive My Car. The film went on to win Best Film Not in the English Language. International films are no longer outliers in the awards race. They instead take up a key role in any studio's overall campaign.
Netflix also had an impressive haul in the Outstanding British Film longlist, with Lady Chatterley's Lover, The Wonder, The Swimmers, and Roald Dahl's Matilda The Musical all featuring (TriStar Pictures/Sony Pictures UK handled Matilda in the UK). The streamer also appears prominently in Adapted Screenplay (Glass Onion: A Knives Out Mystery, Guillermo del Toro's Pinocchio, All Quiet on the Western Front).
Notably, Netflix's latest auteur-led effort, Alejandro González Iñárritu's personal epic Bardo, only features on the Film Not In English Language list, a low return for three-time BAFTA winner Iñárritu.
On these longlists, Netflix lacks a leading English-language heavyweight in the shape of previous awards frontrunners such as Jane Campion's Power Of The Dog or Martin Scorsese's The Irishman. It may well be that the streamer will have to wait another year for that coveted Best Picture Oscar win, unless All Quiet on the Western Front was to pull off a major shock.
Elsewhere, competing streamers featured less prominently compared to previous years, with both Apple and Amazon missing from the Best Film, Outstanding British Film, and Best Director longlists. At this stage last year, Apple had The Tragedy of Macbeth and CODA in the mix, featuring on the Best Film list. The year before, Amazon was working with a strong slate including The Mauritanian, One Night In Miami…, and Sound of Metal.
This year Amazon is in the fray with Santiago Mitre's well-received period drama Argentina, 1985. The film follows the David and Goliath tale of real-life lawyers Julio Strassera and Luis Moreno Ocampo, who prosecuted members of Argentina's bloody military dictatorship. The film screened out of competition in Venice. Apple features on the documentary longlist with Louis Armstrong's Black & Blues, directed by Sacha Jenkins. The doc, which debuted at TIFF, follows the life and legacy of Louis Armstrong, the founding father of American jazz.
Click here for more BAFTA longlist analysis.
Must Read Stories
'Avatar' Snubbed As 'Banshees' & 'All Quiet' Lead Longlists
Uni-Blumhouse's AI Creepshow 'M3GAN' Starts With $2.75M In Thursday Preview
Breathing On His Own & FaceTimes With Team; NFL Scraps 'MNF' Game
'Real Housewives' Star Jen Shah Sentenced To 6½ Years In Prison For Fraud Case
Read More About:
Source: Read Full Article