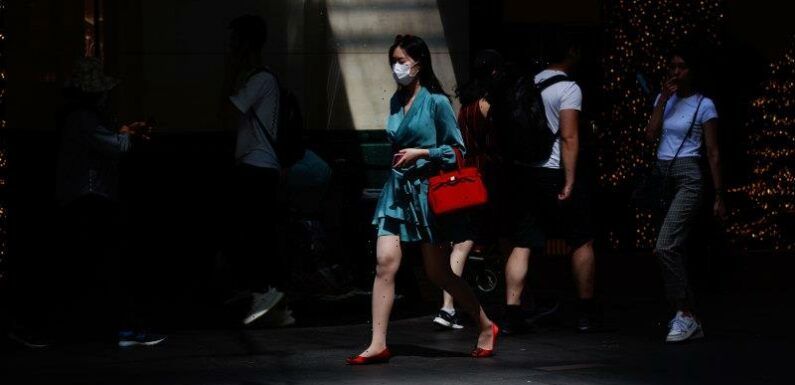 The Australian shopping spree has continued with retail spending surging in November, a sign the Reserve Bank is likely to continue raising interest rates in coming months in a bid to rein in inflation as the global economic outlook deteriorates.
The spending was despite high costs for building supplies and labour and larger bills for dining out lifting inflation back up to a 32-year high in the lead-up to Christmas, and as forecasts show the global economy is on the brink of recession.
Black Friday shoppers drove a surge in retail spending in November, despite worsening economic headwinds.Credit:Nikki Short
Monthly data from the Australian Bureau of Statistics showed inflation rose to 7.3 per cent in the year to November, back to September's level after dipping to 6.9 per cent in October.
Treasurer Jim Chalmers said November's inflation data highlighted the economic pressure being felt by all Australians.
"Even after inflation peaks in our economy, we need to remain vigilant to the global economic pressures that will continue to impact us for some time," he said.
New forecasts from the World Bank paint a gloomy picture for the global economy, with growth around the world for 2023 now expected to be just 1.7 per cent, down from the 3 per cent predicted six months ago.
The bank warned the global economy was so fragile, events including a COVID resurgence or increased geopolitical tensions could push it into recession.
Chalmers said Australia's economy was also facing threats from ongoing natural disasters, as well as shocks including the war in Ukraine.
"We should be optimistic about the future of our economy and our country but realistic about what the deteriorating international outlook means for us in Australia," he said.
Opposition finance spokeswoman Jane Hume said households were paying the price for the government's inaction on tackling cost of living pressures.
"This government was elected on a promise to lower the cost of living, and they assured Australians, time and time again, that they had a plan. Instead, we've seen inflation continue to rise and no plan from the government to tackle it," she said.
ABS head of price statistics Michelle Marquardt said November's increase in inflation was mainly driven by housing, food, transport and furniture. Housing inflation, at 9.6 per cent, was affected by higher labour and building material costs, while increased prices for takeaway and restaurant meals drove food inflation up by 9.4 per cent.
That high and rising inflation has not stalled retail spending. Australians eager for shopping deals in the Black Friday sales helped drive retail spending to a new high, increasing by 1.4 per cent over November, separate ABS data showed. It's the 11th consecutive monthly rise in retail spending, taking the annual growth to 7.7 per cent.
But spending on categories not included in the sales slumped. Turnover in food retail, cafes, restaurants and takeaway food recorded just a 0.1 per cent rise over November, the weakest increase for those categories for 2022.
Indeed's Asia-Pacific economist Callam Pickering said while November may prove to be the last hurrah for shopping, household spending has proven more resilient than the Reserve Bank had anticipated.
"In response, the RBA will have little choice but to hike rates, with a further 50 basis points likely in the first half of the year," he said.
The bank lifted rates from a record low of 0.1 per cent to 3.1 per cent last year, and the board has been considering a pause in rate hikes in coming months as previous increases take effect.
EY chief economist Cherelle Murphy said there were factors affecting the inflation data including the return of the full fuel excise, and the figure was still below the Reserve Bank's expectation of 8 per cent by the end of 2022. But a tight labour market could put more pressure on wage growth, and China's reopening could stoke global inflation.
"The RBA's 2022 rate hikes were designed to tame inflationary pressure, but there are too many upside risks that will force the RBA's hand further. It will continue to raise interest rates to cool the economy in the first months of 2023," she said.
Cut through the noise of federal politics with news, views and expert analysis from Jacqueline Maley. Subscribers can sign up to our weekly Inside Politics newsletter here.
Most Viewed in Politics
From our partners
Source: Read Full Article