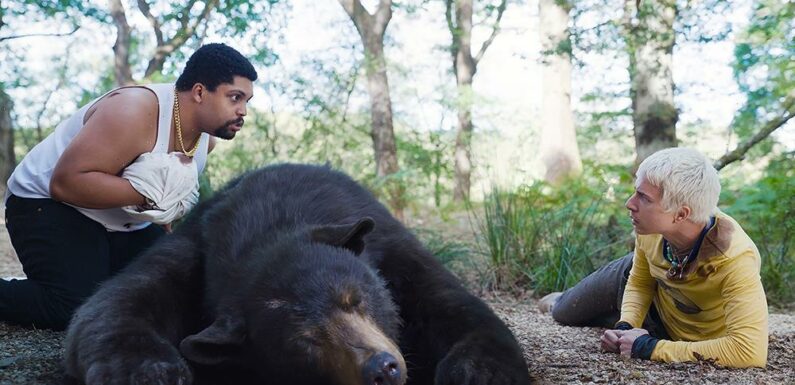 Paul Rudd's Ant-Man is taking on his scariest adversary yet: a 500-pound black bear on cocaine.
Universal's gruesome action-comedy "Cocaine Bear" won't come close to "Ant-Man and the Wasp: Quantumania" in terms of weekend ticket sales, but the drugged-up animal adventure is expected to start strong at the domestic box office. "Cocaine Bear" hopes to take in $15 million to $17 million from 3,500 North American theaters, with a chance that positive buzz could propel initial returns to $20 million.
The wild R-rated movie was budgeted at roughly $35 million, which was mostly dedicated to the CGI used to bring to life the coked-out grizzly alongside the human cast of Keri Russell, O'Shea Jackson Jr., Alden Ehrenreich, Jesse Tyler Ferguson and Brooklynn Prince. Elizabeth Banks directed "Cocaine Bear," which is one of today's rare original theatrical comedies. (But viewers, beware, it's not exactly a laugh-a-minute romp… unless you're tickled by blood, blood and more blood.) Inspired by a stranger-than-fiction story about a drug runner's plane crash, the film imagines the events that would have transpired if the American black bear that ingested a duffle bag full of blow had lived to tell the tale.
For "Cocaine Bear," a debut around the high teens isn't going to establish any box office records, but those early estimates suggest it could be a notch in favor of the nearly extinct mid-budget movie. The recent box office performance of high-concept comedies and action-adventures — like Billy Eichner's "Bros" ($4.8 million to start), Gerard Butler's "Plane" ($10 million to start), Tom Hanks' "A Man Called Otto"($12.8 million to start) and "80 for Brady" ($12.7 million to start) — have been mixed. But they work best theatrically when budgets are kept in check.
"Cocaine Bear" is aiming for second place on domestic box office charts behind last weekend's champ, "Ant-Man and the Wasp: Quantumania." Both films are catering to younger male moviegoers. The third Marvel movie to center on Rudd's pint-sized Avenger overcame dismal reviews, opening to $120 million in the U.S. and $249 globally over President's Day weekend. In addition to scoring the first $100 million domestic debut of 2023, "Quantumania" crushed the opening weekends of its predecessors, 2015's "Ant-Man" ($57 million) and 2018's sequel "Ant-Man and the Wasp" ($76 million).
In its second weekend of release, "Ant-Man 3" will retain the No. 1 spot even though ticket sales could plunge by 55% to 65%. If the threequel plays like the first two "Ant-Man" movies, as well as recent Marvel adventures like "Eternals" or "Thor: Love and Thunder," the latest adventure looks to add anywhere from $35 million to $40 million in its sophomore outing.
Overall, the box office in 2023 is encouragingly ahead of last year's tally by 47%, according to Comscore. In the next few weeks, Michael B. Jordan's sports drama "Creed III," Paramount's thriller "Scream VI," the Warner Bros. superhero sequel "Shazam: Fury of the Gods" and "John Wick: Chapter 4" hope to keep up the momentum.
Read More About:
Source: Read Full Article