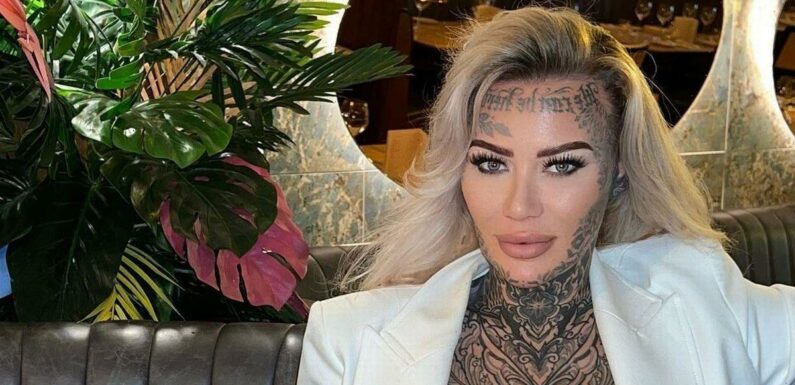 Britain's most tattooed woman Becky Holt looks completely different in snaps taken before her ink.
The Cheshire lass spent around £35,000 on her ink progress with almost her entire body covered.
Around 95% of her body is covered in intricate designs and she only turned to facial tattoos after running out of space.
READ MORE: Britain's most tattooed woman fears inking body part would 'take away beauty'
Now after dedicating many years to her transformation, Becky shared a series of snaps before her art work.
Posting on Instagram where she boasts 137,000 followers, the mum hit back at trolls who often tell her she's done too much.
She said: "'You didn't need surgery'. 'You had nice teeth'. 'What was wrong with your old nose?'
"Just a few of the many annoying comments within regards to surgery and what I do with MY FACE."
Becky added: "If you don't like something, change it. My body, my decisions & choice.
"You may think I looked nice but I am much happier with smaller nose, whiter teeth and bigger eyes & lips."
In the multiple snaps, Becky shared her previous life where she had no ink on her face and sported different hairstyles.
One photo shows the influencer with bold red hair and a shaved side with make-up, before she had any inkings on her face.
Another photo is of her hair which is much longer, but this time it's bright orange and she's wearing a sports cap.
Further down in the pictures Becky had brown curly hair as she showed off her pearly white teeth.
Homeless man turns grim abandoned house he bought for £1.2k into gorgeous home
The influencer hit back at trolls for making comments about how much she's altered her appearance.
And many fans were gushing as she showed off multiple throwback snaps on Saturday afternoon.
One online user said: "Absolutely amazing glow up babe."
While another admirer added: "The fact you even had to do this, honestly people are far too opinionated! You look fab."
A third social media fan commented: "If it makes you happy and you're safe, then do what's best for you."
And a fourth Instagram follower praised: "Oh but I do love the half shaved head with the orange."
Costco stocks Prime drink cheaper than Aldi & Asda – but it sells out in minutes
Currently the mum has calligraphy on her forehead and mandala patterns on her cheeks.
She recently revealed she'd never tattoo the front of her face as it would "take her beauty away".
And this week she amazed fans when she shared raw snaps of her post-surgery.
Posting on Wednesday: "Had my surgery yesterday. Feeling okay today.
"Buzzing that I've got very little bruising just very swollen. Glad to be back at my room and chilling out.
"Not in any pain or discomfort at all just feel blocked up."
Want all the biggest Lifestyle news straight to your inbox? Sign up for our free Daily Star Hot Topics newsletter
READ NEXT:
'Britain's most tattooed woman' flaunts £35k ink collection in sparkly dress
Britain's most tattooed woman has last laugh after trolls say she'll 'regret ink at 60'
Britain's most tattooed woman showcases natural beauty in rare makeup-free snap
Source: Read Full Article