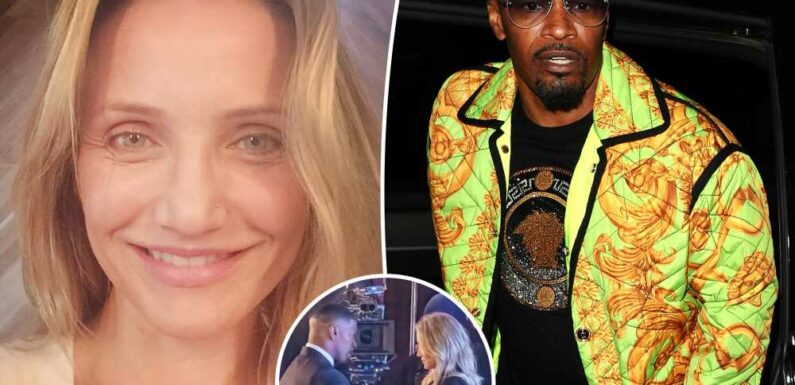 More On:
cameron diaz
Lucy Liu took 'gorgeous' nude photos of Drew Barrymore on 'Charlie's Angels' set
Cameron Diaz reportedly quitting acting again after Jamie Foxx on-set meltdown
Cameron Diaz: Drew Barrymore's alcohol struggles were 'difficult to watch'
55 Vicodin & a quart of vodka: The most shocking tales from Matthew Perry's tell-all memoir
Cameron Diaz and Jamie Foxx are "Back in Action."
The pair have returned to the set of their Netflix action flick for the first time since Foxx reportedly had a "meltdown" and fired four people.
In photos obtained by the Daily Mail Thursday, Foxx, 55, was seen filming scenes with Diaz, 50, in the snow-covered English countryside.
Diaz was dressed in a cozy camel knit sweater by Chloe, paired with black leather pants and black boots.
Meanwhile, her co-star sported a suit, white button down and black dress shoes while carrying a large black backpack.
As previously reported, the Seth Gordon-directed film was allegedly hit with drama earlier this month after four crew members were sacked by Foxx, per The Sun.
The "Ray" star is believed to have thrown a "tantrum" and fired an executive producer, two directors and his driver.
A separate report from the outlet claimed Foxx was the target of a $40,000 scam, which halted production yet again.
A source said the film — which marks Diaz's first project since 2014's "Annie" — had been nothing short of a "nightmare" and "there have been a lot of delays" with "an investigation into everything going on."
"It sounds as though they tried to offer up a Rolex watch as part of the deal," the insider told the outlet, claiming, "People will be glad when this thing finally wraps."
Reps for Diaz and Foxx did not immediately respond to Page Six's requests for comment.
Meanwhile, other reports claim that Diaz will walk away from Hollywood — again — once filming for the Netflix movie wraps.
The actress will retire from her acting career at the conclusion of "Back in Action," so she can focus on being a mom to her 3-year-old daughter, Raddix, a source told the Daily Mail Monday.
"These back-to-back 10-hour workdays have been a lot on her and she hates being away from Raddix," the insider shared.
"Cameron loves being a mom more than anything in the world."
Diaz shares her baby girl with Good Charlotte rocker Benji Madden, whom she wed in 2015.
While the "I Just Wanna Live" singer, 44, is supportive of Diaz's acting career, her commitment to the film has apparently "been a lot on him."
A year prior to welcoming Raddix in 2019, Diaz confirmed that she had retired from acting for the first time around.
.
Share this article:
Source: Read Full Article