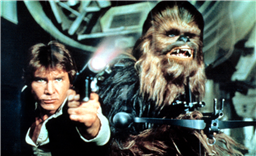 Angie Mayhew, the wife of the late "Star Wars" actor Peter Mayhew, is speaking out against an upcoming auction in which Peter's "Star Wars" memorabilia will be sold. Ryedale Auctioneers is selling "Star Wars" scripts, call-sheets and more that were discovered in Peter Mayhew's attic after his death. Peter starred as Chewbacca in George Lucas' original "Star Wars" trilogy. Angie took to Twitter to say the auction "really breaks [her] heart."
"When we moved out of this house, Peter's movement challenges made it impossible for him to get into the attic to get the rest of these memories," Angie wrote. "It really breaks my heart to see our belongings auctioned off like this by [auction house founder] Angus Ashworth and Ryedale Auctioneers."
"It was one of Peter's and my biggest regrets that we had to leave these items behind," Angie added. "His knees and joints had gotten to be so painful that he was no longer able to go into the attic to get them."
Several hours after posting, Angie updated fans using the Peter Mayhew Foundation account and said that she had a Zoom meeting with the auction house.
"I communicated our desire that Peter's items be returned to the Mayhew family," Angie wrote. "Will keep everyone posted as progress is made – thank you for the continued support!"
Peter Mayhew passed away in May 2019. He debuted as Chewbacca in the original "Star Wars" and went on to appear in "The Empire Strikes Back," "Return of the Jedi," "Revenge of the Sith," "The Force Awakens" and "The Star Wars Holiday Special." He was active on the "Star Wars" convention circuit throughout his career and wrote two books, "Growing Up Giant" and "My Favorite Giant."
Peter measured 7 feet 3 inches. George Lucas originally had his eye on bodybuilder David Prowse to play Chewbacca, but Prowse decided to play Darth Vader instead and Lucas went with the even-taller Mayhew.
Read More About:
Source: Read Full Article