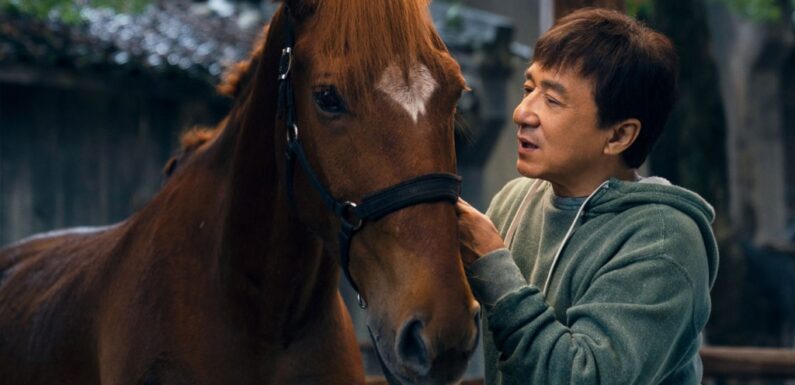 The Jackie Chan-starring stunt-man comedy drama "Ride On" pratfalled its way to first place at the mainland Chinese box office with a lowball $11.7 million opening. Still, that was enough to beat another new release, "The Super Mario Bros. Movie," which ranked fourth over the latest weekend.
Chan is an enduring, but fading, star in China and in the past his new release titles were often scheduled for the three biggest holiday seasons. "Ride On," which sees Chan in an ode to the stunt players he has worked with, was released two days after the Ching Ming (Wednesday 5 April) holiday, when many folks honor their ancestors.
Its opening three days were enough to depose "Suzume" from the top spot, where "Suzume" had ranked for the previous two weekends. "Suzume" earned $8.0 million over the latest weekend in China, according to data from consultancy firm Artisan Gateway. That gives it a $103 million cumulative after 17 days in mainland theaters, a China record for a Japanese animation film.
"Hachiko" the Chinese remake of the famous Japanese tale about a faithful dog, was close behind. It earned $7.8 million on its second weekend of release. That lifts "Hachiko" to a $27.1 million cumulative after ten days.
"Super Mario" earned $6.8 million over the Friday-Sunday weekend. It received an off-cycle release on Wednesday, allowing to benefit from Ching Ming holidaymakers, and earned $11.5 million over five days.
Ticketing agency Maoyan forecasts that "Ride On" will earn a lifetime total of RMB209 million ($31.0 million) in China, and that "Super Mario" will make a total of RMB121 million ($17.6 million).
"Post-Truth," a drama about a Chinese investigative journalist, came fifth with a $2.8 million haul. It now has a $93.9 million cumulative since releasing on March 10.
The nationwide weekend cinema aggregate weighed in at $46.8 million – a median performance for 2023, but significantly weaker than the tracking needed to reach the $8 billion in the full year that has been aired as a forecast in state media.
Artisan Gateway shows the year-to-date total at $2.45 billion. That is some 19% ahead of the same stage last year. However, from now on, comparisons with 2022 will become increasingly meaningless (April and May 2022 were especially weak) as Chinese box office operated under severe anti-COVID restrictions until mid-December. The year finished with a $4.30 billion total.
Year-to-date comparisons with 2018 and 2019 are more instructive. The gross to date in 2023 is 14% below the $2.92 billion to April 8, 2022, and some 23% below the $3.19 billion equivalent for 2018.
Read More About:
Source: Read Full Article