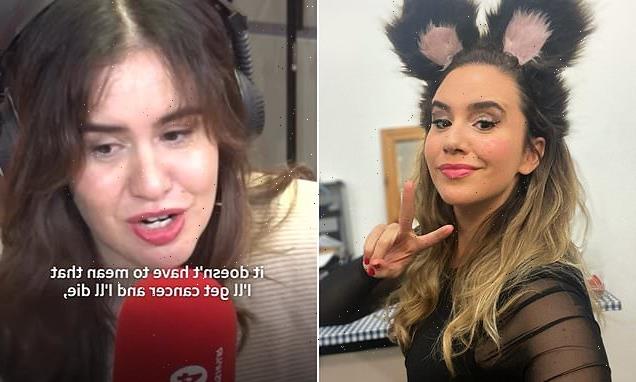 My brother and father both died of cancer – a genetic counsellor told me I also have a 97 per cent chance of getting the disease
Australian comic Michelle Brasier was speaking to Radio 4's Woman's Hour 

Read more: Five unusual warning signs of ovarian cancer revealed
Australian comedian and actor Michelle Brasier has shared how genetic counsellors revealed she had a 97 per cent of getting bowel, stomach, pancreatic or ovarian cancer – after she had tests following the deaths of family members. 
The award-winning Melbourne comic, 34, is currently performing at Soho Theatre in Average Bear, a show that tells the story of her timebomb health. 
In 2006, when she was 18, her father died just a week after being diagnosed with pancreatic cancer. Not long after, her brother Paul, who had been 'young, fit and healthy', was diagnosed with bowel cancer and died the same year. 
Last week, she appeared on Woman's Hour to talk about how she decided to find out her probability of getting cancer when she was just 18 after her father and brother died of it, and her older sister had developed pre-cancerous polyps. 
Speaking to presenter Nuala McGovern, she described the moment she was told she had a very high chance of developing the disease, joking that getting the news was a 'treat'. 
Award-winning Melbourne comic Michelle Brasier told Woman's Hour she decided to find out what chance she had of developing cancer after her brother and father died of the disease
 The comic is currently performing her own show Average Bear at Soho Theatre in London; the performance sees her talk about 'living in the shadow of hereditary illness' using a bear named Average
The Australian says she decided to undergo genetic testing because she wanted to 'get a head start' .
She said: 'I'm very proactive about my health. 
'So, I went to my GP, and I explained: "This is my family history, do I need to get checked for anything? 
'I'm a lot younger than my brother and sister so I've got a head start and I'd love to use it." And they referred me to a genetic counsellor.' 
She told the i newspaper in February that after losing her brother and finding out her own future risk, she 'drank a lot of whisky and kissed a lot of mouths' before coming to an 'absurd acceptance of it all, and although still scared, I began to find what the doctor had told me quite freeing.'
The comic says that while she eats healthily and exercises, she also prioritises fun, saying: 'I might do yoga in the morning, and have a cocktail at night.'
Her one-woman show, Average Bear, recounts some of her personal experiences on 'living in the shadow of hereditary illness', around a narrative about a bear called Average who's scared of hibernation.
Braiser told the BBC show that she's upbeat about her future. She said: 'I'm here for as much time as I can have. 
'It doesn't have to be doom or gloom. It doesn't have to mean that I'll get cancer and die. Maybe I'll get cancer and it will be caught.'
In the Guardian last month, she said the news had made her tell her own story, saying: 'Today in colour is worth a thousand blurry tomorrows. 
'Your future is not guaranteed. And isn't that f****** freeing? If you found out you had less time to live than the average bear, how might you spend it?'
Average Bear at Soho Theatre runs until March 11th 
'Today in colour is worth a thousand blurry tomorrows': The comic says she's determined to live her life to the full in case she doesn't make old age
Speaking to Woman's Hour presenter Nuala McGovern (left) last week, Brasier (right) said she lives her life to the full in light of the statistics she's facing
Source: Read Full Article