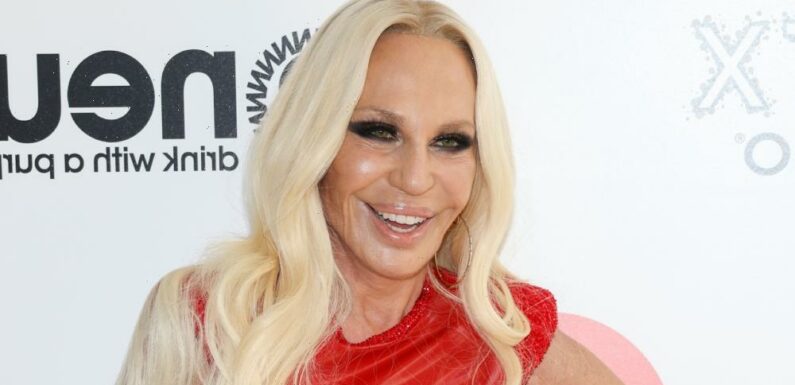 Donatella Versace participated in a wide-ranging talk about her late brother Gianni, Prince, supermodels and her support of the queer community on Monday morning at the Los Angeles LGBT Center.
Following a tour of the center's Hollywood campus, Versace said she was most excited talking to the young people in the audience at the Renberg Theatre at The Village at Ed Gould Plaza.
The tour and talk, moderated by center CMO Phillip Picardi, coincided with the launch of a new Versace Foundation and Council of Fashion Designers (CFDA) scholarship program for LGBTQ fashion students.
Versace recalled when Gianni came out as gay to her when she was only 11 years old. "And then he asked me to bleach my hair blonde," she said, laughing.
Versace took creative control of her brother's namesake luxury brand following his murder in 1997. She remembered how she began to doubt herself when businessmen questioned her skills and expertise. "I got very confused," Versace said, adding that those same businessmen now trust her 100 percent. "They say, 'Do more, do what you want,'" Versace said, smiling.
Versace also remembered her friendship with Prince. The late music icon surprised her with a private concert when he invited her to visit his home, Paisley Park. "Prince was the most generous person I ever met," Versace said.
She also marveled at how ahead of his time Prince was when it came to gender-bending fashion and beauty. "He said, 'I'm short. I need heels,'" Versace said. "He was doing it 20 years ago — the jewelry, the hair."
Picardi also asked Versace what she remembered about the earliest days of the HIV/AIDS epidemic. "It was really really sad," she said, adding, "I lost so many friends. It was terrible." She praised Elton John and the Elton John AIDS Foundation for their work trying to eradicate HIV/AIDS.
On a lighter note, Versace revealed a supermodel catfight that occurred when she reunited Claudia Schiffer, Naomi Campbell, Cindy Crawford, Helena Christensen and Carla Bruni for a 2017 fashion show that marked the 20th anniversary of Gianni's death. Versace said one of the models stole another's dress from her trailer. She declined to name names.
Center CEO Joe Hollendoner introduced Versace. Spotted in the audience were Gigi Gorgeous and Isis King.
On Friday, Versace will present a fashion show of the house's women's and men's fall-winter 22-23 collection at a private location in Los Angeles.
Read More About:
Source: Read Full Article