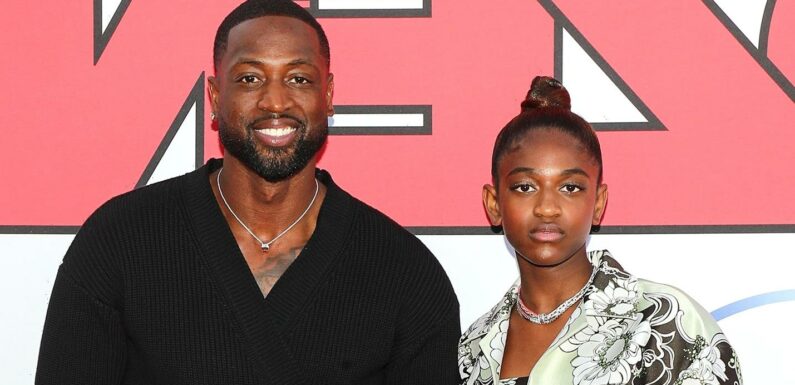 A celebratory occasion! Congratulations are in order for Dwyane Wade's daughter Zaya Wade, whose name and gender change were legally granted three years after she came out as transgender.
Dwyane Wade's Strong Bond With Daughter Zaya Through the Years
A judge approved the 15-year-old advocate's requests on Friday, February 24, Us Weekly can confirm.The teen is now legally known as Zaya Malachi Airamis Wade.
The former NBA star, 41, first revealed that his eldest daughter is transgender while on The Ellen DeGeneres Show in February 2020. (Dwyane shares Zaya and son Zaire, 21, with ex-wife Siohvaughn Funches, son Xavier, 9, with ex Aja Metoyer and daughter Kaavia, 4, with wife Gabrielle Union.)
"First of all, me and my wife, Gabrielle Union, we are proud parents of a child in the LGBTQ+ community, and we're proud allies as well," the three-time NBA Championship winner shared at the time, recalling that Zaya spoke to him and the Bring It On actress about her gender identity when she was 12 years old.
In order to view the video, please allow Manage Cookies
"[She] said, 'Hey, so I want to talk to you guys. I think going forward, I'm ready to live my truth. And I want to be referenced as she and her. I would love for you guys to call me Zaya,'" the athlete said. "Now it's our job to one, go out and get information, to reach out to every relationship that we have."
Dwyane added: "I said, 'You are a leader. You are a leader, and this is an opportunity to allow you to be a voice,'" he shared. "Right now it's through us because she's 12 years old, but eventually it will be through her."
In the years since, Union and Dwyane have been a strong support system for Zaya, who told her dad and stepmom that she wanted to celebrate Pride 2022 not with a big celebration but by helping others.
Dwyane Wade's Family Guide: Meet His Children and Their Mothers
"The biggest thing is my daughter said, 'We want to be able to help other families.' So throughout our foundations, we try to make sure we are helping the LGBTQIA+ community," the former Miami Heat star exclusively told Us at the time. "That's how we celebrate."
Several months later, Dwyane publicly hit back at his ex-wife after she filed legal paperwork to block Zaya's name and gender change.
In November 2022, Funches expressed "concern that [Dwyane] may be pressuring our child to move forward with the name and gender change in order to capitalize on the financial opportunities that he has received from companies, and will receive based upon [his] statements to me, on the basis of our child's name and/or gender change," per a court filing obtained by Us in November 2022.
Dwyane, for his part, defended his daughter amid Funches' "serious and harmful allegations," which he claimed via Instagram have "hurt" their children.
"While none of us are surprised by Siohvaughn's attempt to fight Zaya's identity and her unwavering attempt to drag my name through the mud, I'm very disappointed that she continuously find ways of centering herself and HER needs, without regard to her children," the Illinois native penned in the lengthy message. "All I ever wanted was to have my parenting time uninterrupted, as I knew that it would be a very difficult time for our kids to navigate their new normal. So Instead of actually trying to coparent over the years, she's left her home to see more lawyers and has taken the time to talk to more lawyers since I filed for divorce, than she's left her home to actually see or have truly spoken and LISTENED to Zaya over all these years."
Parents With Pride! Dwyane Wade and More Celebs Supporting Their LGBTQ Kids
Zaya's brother Zaire also came to her defense in the face of his mom's claims. "I love you Zaya," he wrote via Instagram.
Though Zaya has not yet addressed her legal name and gender change, she appears to be living her best life.
Sign up for Us Weekly's free, daily newsletter and never miss breaking news or exclusive stories about your favorite celebrities, TV shows and more!
"Running late," she captioned a stunning photo of herself on Thursday, February 23, donning a little black dress and a shimmering choker necklace with her hair in a top knot. She rocked a full beat of makeup — including icy shadow and a glossy lip — while elegantly posing with her hand at her temple.
For access to all our exclusive celebrity videos and interviews – Subscribe on YouTube!
Source: Read Full Article