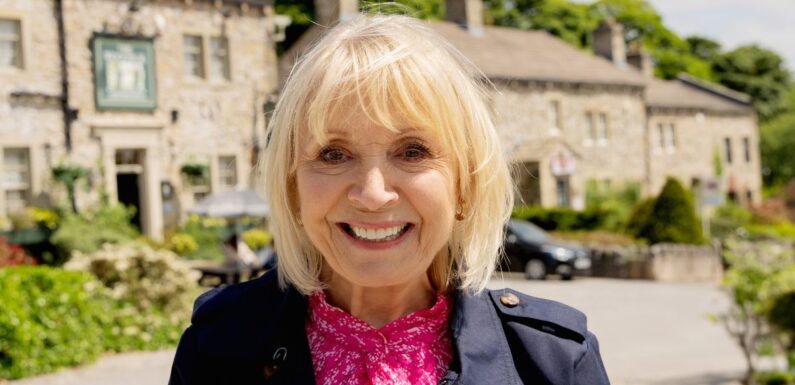 Follow OK! on Threads here: https://www.threads.net/@ok_mag
Emmerdale is set for explosive upcoming scenes as Jai's mother, Georgia Sharma, is making a return to "ruffle feathers" on the eve of her son's wedding to Laurel Thomas.
Originally played by The Bill star Trudie Goodwin, the role has been recast and will now be played by former EastEnders actress, Lin Blakley.
Soap fans will recall that Lin, 75, played Pam Coker in the BBC One soap from 2014 until 2022.
She previously told Digital Spy: "Being part of EastEnders is like going to work and being with another family. I'm really enjoying myself."
Away from her life on screen, Lin shares the spotlight with her very talented family.
Lin married husband Alan Blakley in 1969 and they remained an item until his death in 1996.
During his career, Alan was one of the big names of sixties pop group The Tremeloes and performed many hits such as Silence is Golden and Me and My Life.
Alan is also known for his connection to Len Chip Hawkes, father of pop star Chesney Hawkes, for whom he wrote songs.
Alan and Lin had two daughters together, named Claudie and Kirsten.
He died on June 10, 1996, following an intense battle with cancer.
Like mum Lin, Claudie became an actor after studying at the Central School of Speech and Drama.
Her TV credits include Vital Signs, Flesh and Blood, Manhunt, Silent Witness, Midsomer Murders, Agatha Christie's Marple, Cranford and Grantchester.
Claudie has also made numerous appearances in numerous films in the likes of A Christmas Carol, Pride & Prejudice, Lennon Naked and The Kid Who Would Be King.
She is married to fellow actor Ross Anderson, who is known for his role in ITV drama Des and in the series Legends.
The couple share a daughter called Mabel.
Meanwhile, Claudie's sister Kirsten, followed in her father's footsteps, as she sings in a rock band called Little Spitfire.
In the upcoming Emmerdale scenes, upon seeing his mum, Jai demands that she leave the village immediately.
The family have been at odds since Jai discovered the secret that he's adopted. He went to look for his divorce papers and instead, stumbled upon his adoption certificate stating that Rishi is not his biological father.
Previously, Jai confronted Rishi, who explained that Georgia had fallen pregnant after a one-night stand while she and Rishi were friends.
Their friendship then blossomed into romance, with Rishi deciding to adopt him from a very young age.
So when Georgia turns up in a cab, it's not surprising that Jai isn't too pleased to see her.
Source: Read Full Article