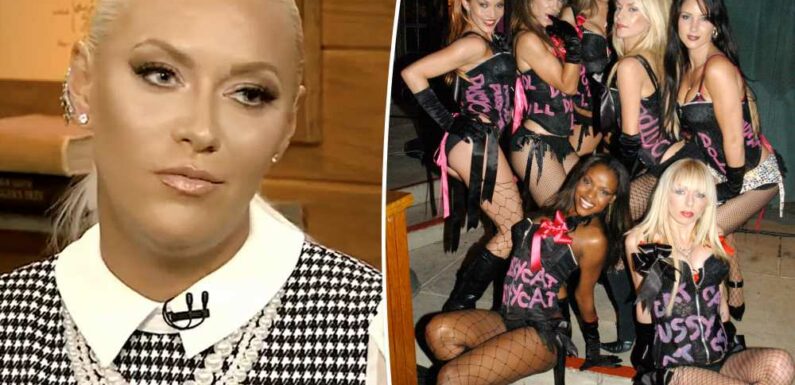 More On:
pussycat dolls
Nicole Scherzinger disses Pussycat Dolls in new song 'Freedom' amid lawsuit
Nicole Scherzinger 'smitten' with boyfriend Thom Evans after breakup rumors
Nicole Scherzinger responds to 'meritless' Pussycat Dolls tour lawsuit
Pussycat Dolls at war with each other over reunion tour cancellation
A former member of the Pussycat Dolls claimed she was forced to terminate a pregnancy in order to remain a part of the girl group.
"I was told to get rid of it," Kaya Jones alleged of her unborn baby during a bombshell interview on Fox Nation's "Tucker Carlson Today" Monday.
When asked who allegedly pushed the abortion, she cryptically responded, "The powers that be."
Jones, now 38, claimed she succumbed to the pressure because she felt she was at the "height" of her career and "really not wanting to lose [her] job."
She further alleged that if other Dolls were to get pregnant, they would be "fired," and so she "got rid" of her child "in between rehearsals."
Jones claimed she then performed with the group at a show at the MGM Grand in Las Vegas, where she was "hemorrhaging," "losing" her baby and being told how "fat" she was all at the same time.
"It's to control you," the singer added.
Jones pointed out that the "majority" of former group members do not have children, alluding that they, too, may have been subject to "the pressures and the forcing abortions."
Page Six reached out to reps for several former members of the Pussycat Dolls, including Nicole Scherzinger, Melody Thornton, Jessica Sutta and Ashley Roberts, for corroboration on Jones' claims but did not immediately hear back.
Aside from Jones, no other Dolls have spoken publicly about allegedly being forced to have abortions while in the now-defunct pop group.
Choreographer Robin Antin, who founded the Pussycat Dolls and oversaw them long after Jones' brief stint ended in 2004, did not return Page Six's request for comment either.
This is not the first time that Jones has spoken negatively about her time in the Pussycat Dolls — which lasted only a few months.
In 2017, the singer claimed in a series of explosive tweets that the "Don't Cha" performers were a "prostitution ring," but Antin, now 61, shot back in a statement to the Blast, calling the claims "disgusting, ridiculous lies."
For more Page Six you love …
Listen to our weekly "We Hear" podcast
Subscribe to our daily newsletter
Shop our exclusive merch
The Playground LA founder added that Jones was "clearly looking for her 15 minutes" of fame.
The Pussycat Dolls also issued their own joint statement at the time, saying that for Jones to liken their professional roles to a prostitution ring "undermines everything we worked hard to achieve for all those years but also takes the spotlight off the millions of victims who are speaking up and being heard loud and clear around the world."
However, the "Buttons" singers added, "If Kaya experienced something we are unaware of then we fully encourage her to get the help she needs and are here to support her."
Antin then sued the Daily Mail in 2018 for running multiple stories about Jones' claims.
Per the complaint obtained by Page Six, the group described Jones as "disgruntled" and said she was "never an official member of the Pussycat Dolls," as she only sang backup on two songs.
The case was settled in 2019.
Jones left the Pussycat Dolls before they saw worldwide success with two studio albums that were released in 2005 and 2008. The group disbanded in 2010.
They tried to come back together for a reunion tour in 2020 before suing former frontwoman Scherzinger, 44, over its cancellation.
Share this article:
Source: Read Full Article