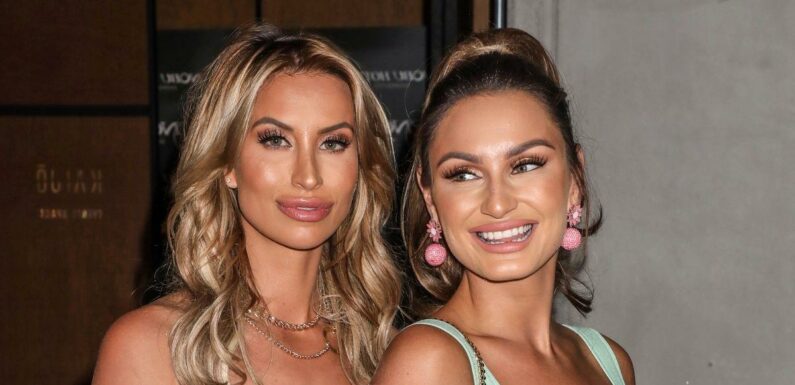 Ferne McCannandSam Faierswere once friends and both starred in The Only Way Is Essex together before aseries of derogatory voice notes were released onlinein September last year.
The recordings hear Ferne, 32, appear to make a series of derogatory comments about her former co-star, 32.
The pair infamously fell out in 2017 amid reports of a rivalry over their ITV shows showcasing their pregnancies and family life.
The childhood pals have had a rocky relationship over the years, with the pair once famously clashing over their rival TV shows, but, before the voice note scandal, things had appeared to be all good between the Essex natives – with Ferne even appearing on Sam's podcast to chat about life as a mum back in May 2022.
TV show rivalry
After a few years in the limelight together the stars clashed over their respective post-TOWIE projects.
Following the birth of their children, with Ferne being a mum to Sunday, five, and Sam welcoming kids Paul Jr, seven, daughter Rose, five and 10 month old Edward into the world over the years, both women fronted their very own reality TV shows about motherhood – with Sam's The Mummy Diaries airing before Ferne's venture, First Time Mum.
The similar formats was said to have caused tension between the former friends back in 2017, with a source saying at the time: "Ferne was never going to turn down the show as it was an opportunity for her to make money for Sunday but without Sam's support the breakdown of their friendship was inevitable."
"Sam felt like Ferne was trying to emulate her success by launching a rival programme – and it made things awkward between them.
Things got even frostier when Sam decided to announce the name of her daughter Rosie and the day the first episode of First Time Mum aired – something that was seen as an attempt to steal a bit of focus from Ferne at the time.
Mum-of-one Ferne later addressed the feud, insisting things were on the mend.
"We fell out because I went ahead and filmed for this show," she explained. "After the year I've had, I haven't got the energy to entertain feuds. I just want positivity around me."
Sam also spoke out, saying they hadn't been close for a while.
She told the Mirror: "Over quite a long period of time, we haven't seen eye to eye on a number of things. We've drifted apart from each other. We've grown up and grown apart but there's no major feud."
Boyfriend beef
Ferne was forced to deny that Sam had ended their 19-year-long friendship over her former boyfriend Arthur Collins.
Arthur was sentenced to 20 years behind bars in 2017 after carrying out an acid attack at a London nightclub which left sixteen people with chemical burn injuries and temporarily blinded three others.
It was claimed that Sam ended her friendship with Ferne after she "warned Ferne off Arthur".
Hitting back at the claims, Ferne told MailOnline: "I was hearing that she warned me off Arthur. That is completely untrue and you're hearing it from the horse's mouth.
"Sam Faiers never met Arthur. After the incident, she was at my birthday and I don't know. There's absolutely no truth in that.
"The reason as far as I'm concerned is that she fell out with me is because I decided to take this show. We had like 15 years of friendship, my first baby is one week apart from her baby and it can still be lovely and all I'll say is it's a terrible shame."
She added: "We're all going to Ibiza for Billie's hen do… I haven't done anything wrong (to Sam) to worry about being there. To make this clear. Sam fell out with me. I haven't done anything wrong but take the show and of course I was going to take it."
Kissed and made-up?
In May 2022, the two women appeared to be on good terms as Ferne chatted to Sam and her sister Billie Shepherd on an episode of their podcast, but the mum-of-one slipped up during her audio catch-up with the siblings – admitting she doesn't usually listen to their show.
Putting Ferne on the spot, Sam asked: "So Ferne, we speak about you regularly on the show. I don't know if you listen to us?"
Ferne then inadvertently threw herself under the bus by revealing that, no, she doesn't tune in week after week and instead just listens to highlights on social media – and that her assistant listens to the show instead.
She explained: "I've tuned in… I've tuned… erm… Do you know what? I really like the bite sized bits on social media.
"And my PA, she listens to your podcast regularly and she said; 'Oh! This come up about you the other day!' And I love it."
Voice notes leak
Last year the former TOWIE star's world came crashing down when an anonymous Instagram account began leaking damning voice notes claiming to be from Ferne.
It made front-page news across the country and reports have suggested that it was the beginning of the estrangement of Ferne from best friends Sam and Billie after the recordings allegedly saw Ferne slamming the two sisters.
Sam's mum weighs in
In September, Billie and Sam's mum Suzie Wells accused Ferne of launching a "vile" attack on her daughter after leaked voice notes appeared online. Suzie has claimed to have been left "hurt and upset" for "a few days" after her discovery.
Posting on Instagram, Suzie told fans she could "no longer sit back and say nothing".
The star told fans that a clip has been shared on social media, adding: "This has come as a complete shock to myself and my family.
"Ferne has always been a very close family member to all of us over the past 20 years. It appears the voice note was sent just weeks after Samantha gave birth back in May."
Ferne addresses the drama
Addressing the voice note scandal on Wednesday's This Morning, Ferne broke down in tears and publicly apologised.
After watching a teaser clip of the new series of her reality show, Ferne McCann: First Time Mum, which airs Wednesday night and addresses the voice note scandal, the reality star got emotional.
Wiping away her tears, Ferne admitted: "It's really hard to watch!", adding that when you let the cameras follow your life for reality TV, it's "warts and all".
She continued: "It definitely wasn't my finest hour, and it definitely was a very difficult time in my life when those voice notes were leaked.
"I do need to take this opportunity to publicly apologise again to those affected. Obviously the words that I used were unpleasant and I have reached out privately to those people."
Ferne added: "It's very difficult because I would love to sit here with you guys and my followers to share exactly what went on. But it's now part of a criminal investigation so I can't do that.
"But what I can say, these voice notes were from a time when I was in a very vulnerable situation and a very difficult situation for me five to six years ago.
"Since then, I have done a lot of work on myself, I have been in therapy for six years and I feel that I am a different person.
"Even though I can't share my full truth and I know how frustrating that is for people listening, I know that one day I will get that chance to fully be able to hopefully sit with you guys on the sofa and be 100% transparent.
"I know that my story will be able to help a lot of women but until then I can't say too much."
READ NEXT:
Click here for today's top showbiz news

Strictly's Giovanni Pernice and Jowita Przystal 'split' after falling for each other on show

Molly-Mae Hague shows off her massive colour-coded wardrobe as she does clear out

Pregnant Natasha Hamilton seen filming for Real Housewives of Cheshire for first time

For the latest showbiz exclusives, sign up to our daily OK! Newsletter
Source: Read Full Article