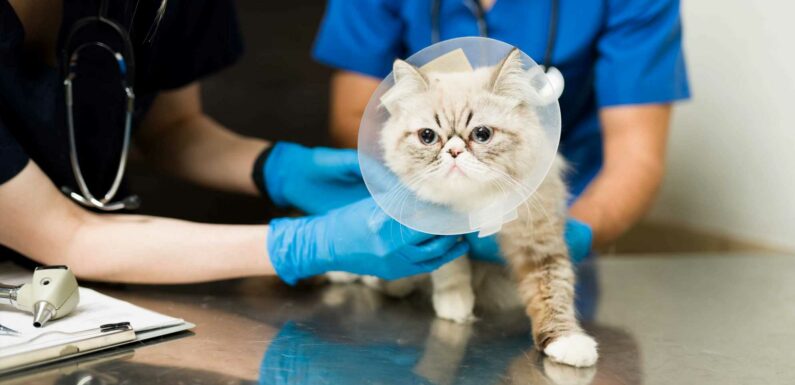 PAYING vet bills for a poorly pet can cost you hundreds or even thousands of pounds.
It's a tough hit, especially in the cost-of-living crisis. Pet insurance can act as a vital lifeline for four-legged pals.
Here's how to get a policy in place without paying the earth . . . 
PICK YOUR POLICY: There are different levels of pet cover.
The more comprehensive policies offer higher payouts for a greater variety of conditions and are more expensive.
Basic cover is more affordable though you will have a cap on payouts for treatment.
READ MORE MONEY SAVING TIPS
Bargain car cleaning hack that saves you money and makes your journeys easier
Cheapest time to have a shower to save money on water and energy bills
UP THE EXCESS: Opting for a higher excess helps reduce insurance prices. The drawback is you have a sizeable cost to meet if you need to claim.
Keeping cash to cover this excess in an easy-access savings account is one way to offset the risk.
SHOP AROUND: Search for the best deal on policies using comparison sites — it's worth checking multiple ones as many have exclusive offers with insurers.
Try GoCompare and CompareTheMarket.
Most read in Money
Major bank to close 15 more branches this year – see the full list
DWP warns millions could be missing out on £3,500 – how to claim benefit boost
People are just realising Sainsbury's has made a major change to checkouts
Top 20 Wetherspoons pubs in the UK revealed – is your local on the list?
SPENDING POWER: Once you have found a policy, buy it through a cashback app or website to get money back.
Even when buying through a comparison site, you can click through sites such as Quidco or TopCashback for cashback.
PRE-EXISTING CONDITIONS: Insurers will often refuse to pay for treatment for ­conditions your pet had before a policy is taken out.
Older pets are also more difficult to insure.
It could be better to stick with an existing policy if your cat or dog is elderly or has an ongoing illness.
HELPING HAND: If you find your pet needs treatment that you can't afford, the PDSA or Blue Cross could be able to help.
The charities help poorly pets of certain owners — to qualify you usually need to be in receipt of benefits and live close to one of their hospitals or clinics. Check eligibility on pdsa.org.uk and bluecross.org.uk.
All prices on page correct at time of going to press. Deals and offers subject to availability.
Deal of the day
MAKE quick work of dirty floors with Vileda's steam plus mop, down from £99.99 to £59.99 at vileda.co.uk.
SAVE: £40
Cheap treat
CHOOSE two Market Street treat tubs at Morrisons this month and pay £3.50, saving up to £1.48.
What's new?
TUCK into Ginsters' new limited-edition creamy tomato chicken and mozzarella slice, £1.95 from Tesco, for an easy and tasty lunch on the go.
Top swap
UP your style credentials with these chic angular cat eye sunglasses, £27, from & Other Stories.
Or get the look for less with Primark's version, £2.50.
SAVE: £24.50
Leah's little helper
TIRED of losing your keys in the house? Pop a finder on your keyring to activate a beep from it with your phone. This Aquarius key finder is £4.77 at Onbuy.com.
PLAY NOW TO WIN £200
JOIN thousands of readers taking part in The Sun Raffle.
Every month we're giving away £100 to 250 lucky readers – whether you're saving up or just in need of some extra cash, The Sun could have you covered.
Read More on The Sun
Urgent warning for 150,000 grandparents missing out on £6,875 pension boost
Parents are scrambling to get their hands on kids' Croc dupes from Home Bargains
Every Sun Savers code entered equals one Raffle ticket.
The more codes you enter, the more tickets you'll earn and the more chance you will have of winning!
Source: Read Full Article