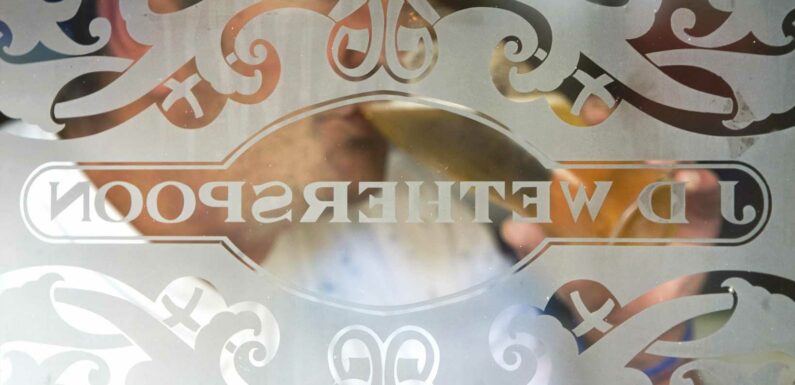 WETHERSPOONS has confirmed when some of its boozers will be closing for good.
It comes as the pub chain announced that 19 of its pubs have been sold and a further 35 have been put up for sale.
Now Wetherspoons has confirmed the closing date for three of its sites – with one set to shut for good as early as this weekend.
Pubs have been knocked by rising costs as inflation sends prices soaring and less demand among cash-strapped punters.
The pub chain saw like-for-like sales drop 1.1% in the five weeks to November 6, 2022 when compared with pre-pandemic trading in 2019.
But sellers are struggling to find buyers for some of the locations, according to the FT.
READ MORE IN MONEY
Blow to drinkers as chain 'set to sell 1,000 pubs' in bid to pay off huge debt
Wetherspoons Valentine's Day meal for two is back – but there's a major change
Pub giant Stonegate, which is behind brands such as Slug and Lettuce and Be At One, is also looking to sell off pubs to pay down its debt pile, according to Bloomberg.
Revolution revealed it will be shutting some of its bars on Mondays and Tuesdays to help cut energy costs.
Around 4,500 pubs in the UK are considering reducing trading hours over winter, according to the British Beer and Pub Association.
Wetherspoon pubs in major towns and cities such as Southampton and Middlesbrough are also up for sale.
Most read in Money
Aldi could be forced to remove popular items from shelves
Tesco has made a big change in stores – there's a new addition coming to aisles
Blow to drinkers as chain 'set to sell 1,000 pubs' in bid to pay off huge debt
Shoppers buy Argos gadget that keeps you warm without putting heating on
Here is the full list of pubs set to close from February:
Thomas Leaper, Derby – Sunday, February 5
The Sir John Stirling Maxwell, Glasgow – Sunday, March 26
The Willow Grove, Southport – Early 2023
It is estimated that Wetherspoons employs up to 43,000 people across the UK.
Its website says it runs almost 900 pubs in towns and cities across England, Scotland, Wales, Northern Ireland and the Republic of Ireland.
The chain opened its first establishment in 1979.
Here is the full list of pubs that are still up for sale and at risk of closing
The Butlers Bell, Stafford
Worlds Inn, Romford
Silkstone Inn, Barnsley
Wrong 'Un, Bexleyheath
The Percy Shaw, Halifax
Jolly Sailor, Hanham
The Alfred Herring, Palmers Green
The Moon & Bell, Loughborough
The Widow Frost, Mansfield
Resolution, Middlesbrough
Foxley Hatch, Purley
The Rising Sun, Redditch
Sennockian, Sevenoaks
Admiral Sir Lucius Curtis, Southampton
The Colombia Press, Watford
The Malthouse, Willenhall
The John Masefield, New Ferry
The Crosse Keys, Peebles
Lord Arthur Lee, Fareham
The Saltoun Inn, Fraserburgh
General Sir Redvers Buller, Crediton
Plough & Harrow, Hammersmith
Thomas Leaper, Derby
Cliftonville, Hove
Tollgate, Turnpike Lane
Asparagus, Battersea
Millers Well, East Ham
Hudson Bay, Forest Gate
Angel, Islington
The Billiard Hall, West Bromwich
Capitol, Forest Hill
The Bankers Draft, Eltham
Moon on the Hill, Harrow
The Bank House, Cheltenham
Last Post, Loughton
Here's the full list of Wetherspoons pubs that have already been sold:
Read More on The Sun
Martin Lewis reveals grandparents missing out on £1,000s of free cash
Inside UK's richest gypsy's £6m mansion with car showroom & sweeping staircase
Harvest Moon, Orpington
Alexander Bain, Wick
Chapel an Gansblydhen, Bodmin
Moon on the Square, Basildon
Coal Orchard, Taunton
Running Horse, Airside Doncaster Airport
Wild Rose, Bootle
Edmund Halley, Lee Green
The Willow Grove, Southport
Postal Order, Worcester
North and South Wales Bank, Wrexham
Meanwhile, Wetherspoons has revealed its Valentine's Day meal for two is back – but there's a major change and diners won't be happy.
Do you have a money problem that needs sorting? Get in touch by emailing [email protected]
Source: Read Full Article