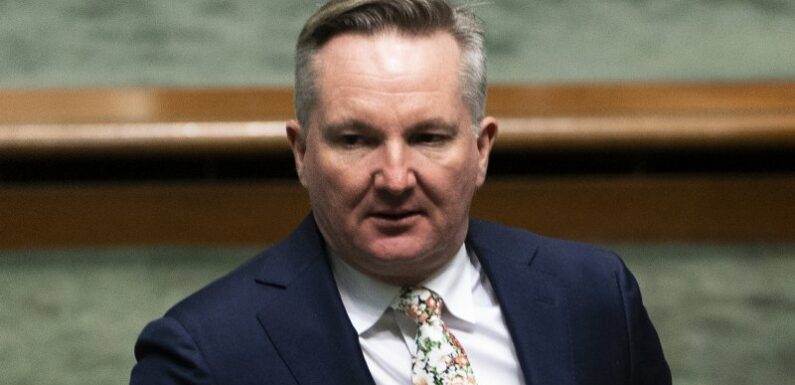 The energy market operator's urgent warning of a gas shortage has heated up a political brawl between the Greens and the federal government as time runs down for Energy Minister Chris Bowen to reform the safeguard mechanism to deliver on Australia's legally binding climate target.
The Australian Energy Market Operator (AEMO) released last week a forecast that the east coast would run short of gas by 2027 unless new supply projects opened up, or exports from Queensland's LNG export terminals are turned back for the local market.
Climate Change and Energy Minister Chris Bowen. Credit:Alex Ellinghausen
AEMO said Victoria, the state with the highest household gas demand and rapidly dwindling supply from its Bass Strait fields, could suffer a gas shortage as soon as this winter in the event of extreme weather conditions.
The gas shortage warning adds a new dimension to the standoff between the Greens and federal government over its safeguard mechanism reform ahead of parliament returning this fortnight, with the minor party's leader, Adam Bandt, demanding a guarantee that all new fossil fuel projects will be vetoed in return for support for the signature climate policy.
Bowen rejected this demand and on Sunday said the only choice open to Bandt is to side with his government or resurrect the controversy of 2009, when the Greens vetoed the Rudd government's emissions trading scheme because the party wanted a more ambitious policy.
"It's now up to Greens to decide if they want to vote with [Opposition Leader] Peter Dutton for another decade of climate wars, just like they did in 2009," Bowen said. "Or if they want to support these massive reforms that will reduce emissions by over 200 million tonnes."
The safeguard mechanism was created by the former Turnbull government in 2016 but it never set binding pollution targets. Bowen has already used regulations to tighten pollution caps so that Australia's 215 biggest emitters must reduce their carbon footprint by about 5 per cent a year until 2030.
The beefed-up safeguard mechanism is forecast to deliver about 30 per cent of the cuts needed to achieve the government's target to cut emissions by 43 per cent by the end of the decade. But to achieve that it needs to begin by July 1 and Bowen needs parliament to approve one more element of the scheme to make it work – and has only three parliament sitting weeks left.
Known as safeguard mechanism crediting, this element of the scheme would enable polluters to earn and trade carbon credits for their emissions cuts, and it is key to business community support.
Safeguard crediting would allow, for example, the cement company where there is no available technology option available to lower pollution to buy credits from a liquified gas processing plant that has switched from fossil fuels to clean solar power.
The Coalition has committed to blocking the safeguard crediting bill, so while there are enough Labor MPs in the lower house for the government to pass it, the government will rely on support from the Greens and two other crossbenchers in the Senate.
Bandt said in a speech to the Australia Institute last week that he was open to negotiations, but insisted on a ban on new fossil fuel projects.
"The Greens are offering Labor a way out. We're not going to get everything we want, we understand that," he said.
"We're not in the parliament to be a rubber stamp, but nor are we going to simply dismiss anything that doesn't meet our standards.
"But we are not afraid to oppose moves to open more coal and gas."
However, Bowen said last week as he responded to AEMO's gas shortage warning that more gas was needed to support the transition to renewable energy – to power fast-start gas plants to supply ready energy to the grid when the sun isn't shining and the wind isn't blowing.
"It would be irresponsible to rule out new gas when we have this important transition under way and gas is an important and vital underpinning because it's so flexible," Bowen said.
Independent ACT senator David Pocock has identified concerns with scheme, including the ability granted to polluters to buy unlimited carbon offsets instead of cutting pollution, and Tasmanian senators Jacqui Lambie and Tammie Tyrrell said they remain in talks with the government.
Cut through the noise of federal politics with news, views and expert analysis from Jacqueline Maley. Subscribers can sign up to our weekly Inside Politics newsletter here.
Most Viewed in Politics
From our partners
Source: Read Full Article