Diverse representation in Hollywood has long been a topic of conversation, and for good reason, but oftentimes these conversations only reach the surface — literally — because there's still so much disparity in behind-the-scenes roles held by men, women, and people of color in TV and film. As a result, every announcement about a new female-directed film project is cause for celebration, but the news that Halle Berry will direct her first feature length movie deserves a celebration and a full blown parade.
According to a report from Deadline, Berry is signed on to direct Bruised, an action movie which will find the Oscar-winning actor both behind and in front of the camera. Berry will star in what Deadline called an "MMA drama," making Berry's involvement all the more impressive. Her directing debut would be exciting no matter what, but given the stats on female-directed action movies, this news just furthers Berry's reputation as a trailblazer.
According to a study conducted by the Center for the Study of Women in Television and Film, San Diego State University, 13 percent of all action films included in the top 500 films from 2017 employed women in behind-the-scenes roles. In other words, action movies have the lowest proportion of women behind the camera out of any genre when it comes to top-grossing films. Most women, according to the Study of Women in TV and Film, work behind the scenes on documentary films, but even that genre's top 500 films only employed women behind the scenes 30 percent of the time. As far as directing specifically, the breakdown is even bleaker, as women served as directors on only 18 percent of the top 500 highest-grossing films in 2017. The numbers are so small that simply by signing on to this project, Berry is helping to change the way Hollywood understands what women's roles behind the camera can be.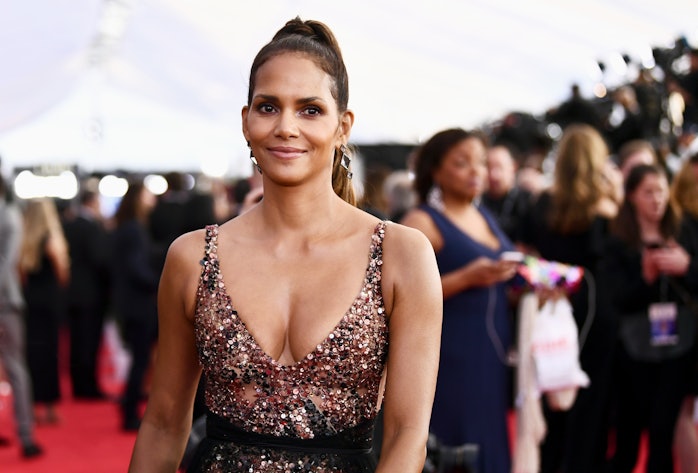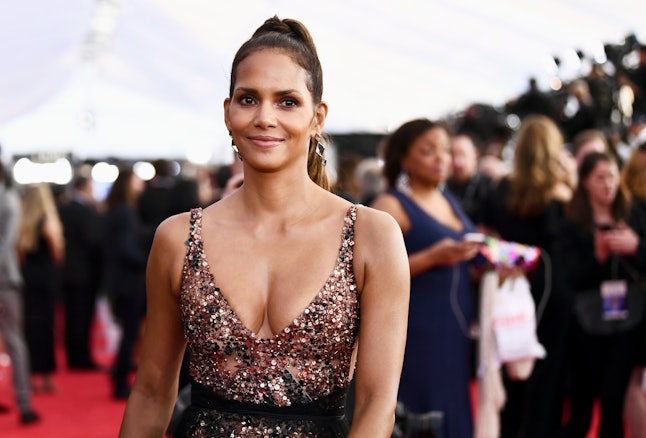 This isn't the first time Berry has acted as a trailblazer in the industry. The actor was the first — and so far the only — black woman to win the Oscar for Best Actress for a leading role, which she received in 2001 for Monster's Ball. It shouldn't be a huge surprise, therefore, that Berry's continuing to lead the way for women in Hollywood.
Now, if anyone is ready to take on a big budget action movie, it's Berry, who has starred in many action movies herself. In fact, she's currently in production for the upcoming John Wick 3 — which comes out May 2019 — that also stars Keanu Reeves. According to Deadline, John Wick's producer Basil Iwanyk will work on Bruised, as will John Wick's team of fight choreographers. Basically, if you love the intense action from John Wick, you can expect more of that with Bruised, but it'll probably be even better (sorry Keanu stans).
As if Bruised isn't cool enough already, the movie also has a badass storyline — wait for it — written by a woman. Deadline reports that Michelle Rosenfarb wrote the script that follows a woman named Jackie "Justice" (presumably Berry), who failed at MMA fighting in the past only to return to it later in order to become one of the fiercest mixed martial arts fighters in the world.
Based on Deadline's description, it sounds like Jackie finds her motivation earn her spot on the top after reuniting with her son who she'd walked out on when he was young, so it'll likely pull on your heartstrings too. The movie won't start production until March, which means it likely won't be released anytime soon. In the meantime, fans can pump themselves up for Berry's exciting new movie by re-watching all of her many other starring roles and whispering "soon she'll be directing this stuff" under your breath.
Source: Read Full Article