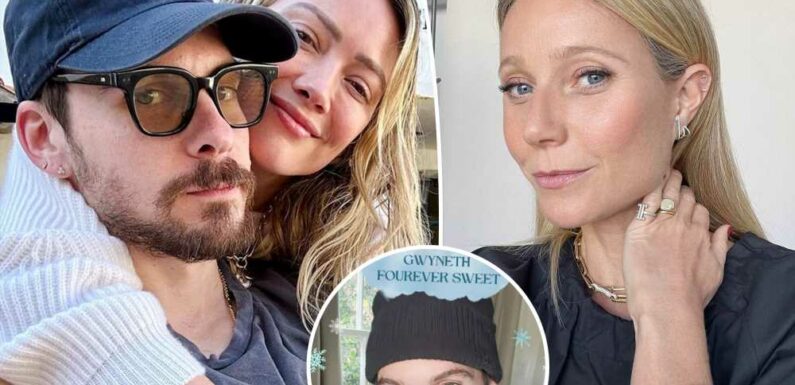 More On:
matthew koma
Hilary Duff's kids tie her and Matthew Koma up in holiday card: 'All is not calm'
Hilary Duff's husband Matthew Koma trolls 'Bachelor' alum Madison Prewett
Hilary Duff's husband Matthew Koma trolls Adam Levine scandal with fake DMs
Candace Cameron Bure calls God her 'defender' after Matthew Koma diss
Jokes on him.
Mega-producer Matthew Koma was banned from Twitter Tuesday after he impersonated Gwyneth Paltrow on the social media app.
"Thanks for all the kind messages today," he jokingly captioned a selfie of himself on his Instagram Stories after his suspension.
"Closure's hard. But it's a community like you guys that keeps me positive and looking forward to the next time I find the opportunity to impersonate a celebrity on a social media platform."
The Grammy winner, 35, then concluded, "Big thanks @gwynethpaltrow for the inspiration."
For more Page Six you love …
Listen to our weekly "We Hear" podcast
Subscribe to our daily newsletter
Shop our exclusive merch
It's unclear what Koma posted that got him kicked off of Twitter since his account has been deactivated.
However, a screenshot of one of his tweets appears to show he used Paltrow's name and photo on his profile and tweeted as if he were the "Shakespeare In Love" star — who is fresh off of winning her ski crash trial.
Koma, who is married to Hilary Duff, is well known for his trolling ways.
In July 2022, he made fun of Candace Cameron Bure for using Bruce Springsteen's "Born in the USA" – a song about veterans – in a video about the Fourth of July.
Then, when Adam Levine's sexting scandal broke, the "Clarity" producer Photoshopped a photo of himself into one of the alleged DMs.
Duff, also 35, previously revealed that she is sometimes on the receiving end of her spouse's pranks.
The "How I Met Your Father" star shared on the "Kelly Clarkson Show" in January that Koma once cut out pictures of the Jonas Brothers and put them over family photos in their home until she noticed.
"He's a really great prankster and, honestly, some of the posts on Instagram … if you don't follow him on Instagram, it's quite a laugh," Duff said.
"Sometimes his stuff is so weird it goes over my head. I'm, like, 'I didn't get that one,' and then the other ones I'm, like, 'I'm dead. You're so funny.'"
Koma and Duff have been married since 2019. They share two daughters: Banks, 4, and Mae, 2. Duff also has an 11-year-old son, Luca, whom she shares with ex-husband Mike Comrie.
Share this article:
Source: Read Full Article