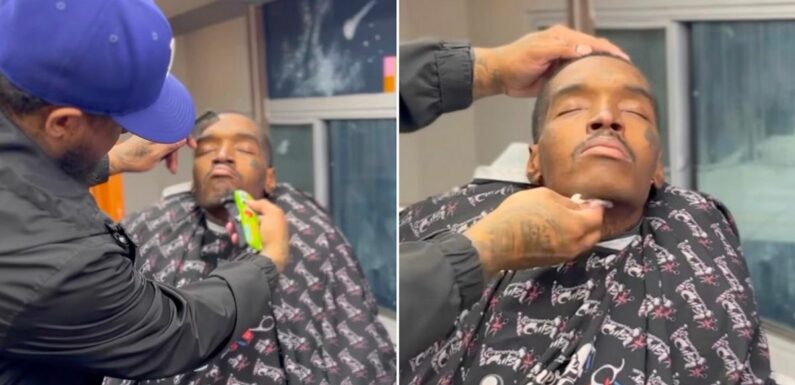 A homeless man has left people doing a double take after a stunning makeover by a kind-hearted barber.
Talented barber Joshua Santiago, from the US, has been touring cities across the country to help rough sleepers feel good and look nice.
While in Los Angles, he met a homeless man and offered him a free hair cut on his mobile barbershop "Empowering Cuts".
READ MORE: 'Bullies called me squirrel for my non-existent jaw – now I'm beautiful after £300k op'
In the heartwarming clip seen more than 360,000 times, the frail-looking man sits on a chair while hunching his back.
He keeps his eyes shut as Joshua shaves his matted, unruly hair off with a clipper.
Next he moves onto give him a shave around the chin so to show his jawline before cleaning his face with a facial wipe.
As Joshua cleanses the man's face, the face tattoos become more visible with subtle glow on his complex.
The man has multiple inkings on his face – including dollar signs tattoos along the eyebrow and "BOSS" in the glabelle area.
For final touches, the barber puts hair-setting spray and a quick snip along the hair line.
The rough sleeper leaves the mobile barbershop without seeing the result on a mirror but viewers were impressed by his new look.
Joshua wrote in his post: "Approach others with the same empathy and consideration that you would hope to receive if you were in their shoes."
One penned: "That brother looks like the world had beaten him down. Thank you for giving him a little push to be great you're God child for real."
A second wrote: "He is actually a handsome gent. Sad to when life gets the best of you."
"Damn he is so young, I can't tell at the beginning but I guess he must be in his 20s," a third shared.
And a fourth added: "Brought tears to my eyes. So beautiful and touching to watch."
READ NEXT:
'I'm obese and weigh 25st but want to be bigger – I won't stop until I'm 54st'
Woman transforms after ditching 'block brows' and 'gaining some pounds'
Veteran porn star, 53, reveals 'scary' reason she no longer shoots scenes with men
Source: Read Full Article