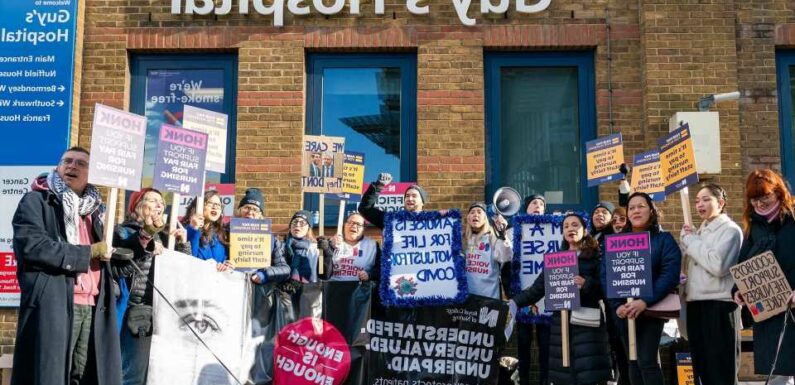 THE UK government has offered a pay deal to nurses and ambulance staff amid a wave of strikes.
The revised offer will see the two groups receive a five per cent pay rise in 2023-24, according to Bloomberg News.
It comes after nurses have taken industrial action several times in recent months.
However, the increase is not yet a done deal, as health unions must put it to a vote by their members.
Should workers choose to reject the offer, strikes and negotiations could continue.
Meanwhile, Downing Street would not confirm the proposal, saying only that "progress" had been made and discussions are "ongoing".
READ MORE HEALTH NEWS
Warning as norovirus levels up 50% in a week – the 6 signs you must know
I'm a sleep guru – the 10 items you must banish from the bedroom for decent snooze
Talks have been on and off for several months, with a key battleground the issue of when any pay increase would come into effect.
Ministers were keen to limit talks to discussion of future pay increases, while union bosses insisted on reopening the already agreed settlement for this year.
Members of the Royal College of Nursing (RCN) voted to strike for the first time in the institution's history late last year.
Pat Cullen, General Secretary of the RCN, said that her members had been "left with no alternative" but to strike when the vote was announced in September.
Most read in Health
Urgent warning to anyone who sleeps less than 5 hours over silent killer risk
Why your quality of sleep is more important than the length of your snooze
I'm terrified my children will die in our mouldy home – it's a nightmare
Brave mum shares distressing video of her little girl to help other parents
She added: "We have governments who are refusing to listen to the voice of nursing staff, which is the voice of the patient.
"As long as they continue to do that, nursing staff will take whatever action is available to make sure that patients are cared for."
Pay in the NHS is determined by an independent pay review body, which then makes recommendations to the government.
At the time of the last review, the government accepted all these recommendations, but unions argued that these have not been adjusted to meet rising inflation and the subsequent cost of living crisis.
Source: Read Full Article