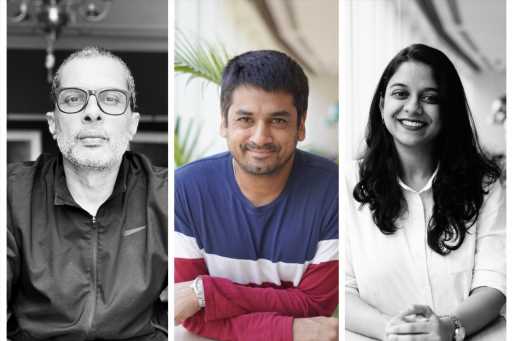 EXCLUSIVE: With the Writers Guild of America (WGA) strike underway, and guilds around the world expressing solidarity, issues surrounding writers and the way they're compensated have become front and center of a global conversation.
But Datta Dave, co-founder of Mumbai and Los Angeles-based agency Tulsea, whose clients include Sudip Sharma, Puneet Krishna and Shonali Bose, points out that while the WGA is dealing with important issues, they're also "mature market issues" – or to be less polite, first world problems – as conditions for writers in developing markets are way behind even the basic rights that the WGA and other guilds have secured in the West.
Related Story
'Guardians Of The Galaxy Vol. 3' Rocketing To Around $14M Thursday; 'Super Mario Bros' Jumping To Half Billion U.S. – Early Box Office
"Over here we're still at the stage where we're asking for writers to get a credit on a billboard," Dave says. "And while Hollywood might say writers don't always get a credit on a billboard, the pendulum has swung so far the other way here that we're trying to course correct a bit."
Although writers and showrunners have never been more in demand in India – with U.S. studios and streamers including Netflix, Disney and Amazon Prime Video pouring investment into local-language content – they're still fighting for terms and conditions that writers in the West would take for granted. Indian writers do not have access to standard contractual clauses covering minimums, residuals, the way payments are structured or how credits are determined.
Chaitanya Hegde, Dave's partner in Tulsea, describes working practices for writers when the agency launched in 2012: "There were challenges with everything, from the kind of monies that writers were being paid and the terms of payment, to one-sided contracts, or writers not being allowed to terminate contracts, to commitments not being honoured without any consequence."
He adds that it's also common practice in India for writers to work on several projects at the same time, often out of necessity, as payment tranches after the initial signing fee are approval based, and those approvals can take a long time to come. "Given the way the development process pans out, and the staggered payment triggers a writer may have on a project, they often have to juggle multiple projects to take care of their expenses," Hegde says. "As a result they're often oscillating between gigs and stretched thin instead of preserving their creative energy and honing their craft and voice."
Dave adds that the arrival of the U.S. streamers in India around 2015 created more opportunities and better pay for writers, at least initially, but during and post-pandemic, the streamers have started cutting costs, which has led to pay rates and terms not being as favourable as they once might have been.
"We've also overlooked the whole issue of Hollywood entities treating writers a certain way in the United States, then using this excuse of local market practices to benefit from cost arbitrage," Dave adds. "Of course, the fact that streamers can make programming more cheaply in growth markets is not necessarily a bad thing – it also helps the local market – but the lack of unions also enables them to avoid offering many of the other standard clauses and benefits that a WGA writer would get."
Tulsea, which has an in-house legal team helping clients with their contracts, credits India's Screenwriters Guild (SWA) for its guidance on issues such as structuring payments. The team also look to the WGA, Writers Guild of Great Britain (WGGB), Australian Writers Guild (AWG) and other international guilds for examples of best practice. But it's an uphill battle in the current belt-tightening environment. The SWA is currently drafting a Minimum Basic Contract and negotiating with producers, but without a unified producers body in India to negotiate with, it will be a long process.
Expanding The Agency Model In India
Dave and Hegde met when they first moved to Mumbai – Dave from the U.S. where he had a background in management consultancy, and Hegde from Bangalore's media and advertising industry. At the time, they were both working with leading filmmakers – Dave with Shekhar Kapur, and Hegde with Rakeysh Omprakash Mehra.
"Everyone said there were no scripts, but there were writers, so we had this idea of starting an agency to get them better deals," says Hegde. The company was fortunate in that it launched just before India's streaming boom kicked off – Netflix and Prime Video both launched in India in 2016 – so could immediately capitalise on the growing demand for quality writing. Among early projects, it helped set up the writers room for one of Netflix's first high-end Hindi series, 2018 crime thriller Sacred Games.
Radhika Gopal, who joined Tulsea in its early days in 2014, says there wasn't much of an agency culture back then. There were agencies repping stars for endorsement deals, but actors mostly relied on personal managers or "secretaries" to handle film and television work, and nobody was repping writers and directors.
"Everything here is influenced by relationships and emotions, so producers would often get offended when asked to communicate with an agent, especially for a writer," Gopal remembers. "They'd ask 'how can you bring a third party into the room? It's improved slightly with the corporatization of the Hindi film studios and the entry of streamers, although there are still producers who can be resistant to dealing with agents, here as well as in the South."
After a few years of repping writers and directors, Tulsea also started working with actors, producers, cinematographers and editors. Currently the agency has a roster of around 200 clients in India and internationally, including film scriptwriters turned showrunners Sudip Sharma (Paatal Lok) and Puneet Krishna (Mirzapur), directors such as Neeraj Ghaywan, RS Prasanna and Shonali Bose, and Delhi Crime actress Shefali Shah. Production company clients include Saregama Films, which produced Kanu Behl's upcoming Cannes Directors Fortnight title, Agra.
Like their counterparts in the West, Tulsea is also involved in packaging – identifying promising IP, including books, remakes and other properties, attaching talent and pitching the resulting packages to studios and streamers. "We're one of the few agencies that has an in-house content team, with a very clear vision to identify projects early on," Gopal says. Among the shows the agency has been involved in putting together are crime thriller Paatal Lok, which is moving into a second season for Prime Video, and dystopian drama Leila for Netflix.
Tulsea is also active in that other crucial aspect of an agency's role – finding and developing new talent. "We have very few institutes in this country that train writers, most of them are self-taught, so an early mission was identifying young writers and finding them gigs," Hegde says.
Among the agency's recent discoveries are Smita Singh, who Tulsea placed in the Sacred Games writers room, after which she went on to script Netflix original film, Raat Akeli Hai. She is making her debut as showrunner on an as-yet-unannounced series for Prime Video, which is currently in production.
Other young talents include self-taught writer-director Rima Das, who has won multiple awards for films including Village Rockstars and Bulbul Can Sing, and Reema Sengupta, whose short film Nocturnal Burger premiered at this year's Sundance Film Festival.
"Enabling young talent is the most exciting part of the job," says Gopal. "It can involve helping them move from a two-line idea, all the way to something that is pitch ready, and having people who are content experts, not just agents, giving them feedback."
Building Bridges Between India And The World
Although the Indian industry is big enough to provide their clients with plenty of opportunities, Tulsea is also starting to develop their careers overseas. Dave says discussions are on-going to attach Indian talent to international projects currently in development in the U.S. and UK, while writers such as Anubhav Chopra are finding work in Southeast Asia: "We've been approached by Asian companies who may have concerns about hiring a Western showrunner due to cost and cultural differences, but feel that bringing on an Indian writer as a consultant might be a better fit."
This cross-pollination also extends to bringing in international writers to run workshops with local talent and consult on Indian shows – Tulsea represents Doug Miro (Narcos) and Matt Pyken (Empire) for Asia, with the latter writer working as a consulting producer on Leila. Although WGA members can't write for non WGA-registered production companies, they can lend their expertise as producers and consultants. "It's been a pleasure to bring in some of these seasoned showrunners from the West who are excited to help develop these markets," Dave says.
Tulsea also represents Japanese writer-director Hideyuki Tokigawa (Dancing In Her Dreams) and has a growing presence in Africa where it reps talent such as Florian Schott (Katutura) and Mbithi Masya (Kati Kati).
Expanding out of traditional content, Tulsea has also launched a gaming vertical, working with a roster of Indian games developers including GameEon and GodSpeed Games, and Tulsea Sports Marketing, a joint venture with Ethnicity Matters in North America, which advises professional leagues and sports franchises on their ethnic marketing strategy. "Indians are now the highest-earning ethnic group in the U.S. so it's inevitable that we'll start to see more South Asian folk in front of the camera," Dave says.
Challenging Landscape
While there's opportunity for growth, Tulsea is also realistic about the current landscape, in India and internationally. In addition to industry-wide belt-tightening, the streamers in India are starting to look more at mass market content to grow subscriptions, following an initial focus on high-end drama, so may lean towards investing in stars rather than quality writing.
Despite a plethora of platforms, India has always had a limited number of buyers with budgets big enough to finance premium drama, and their ranks may contract further in the wake of the Sony-Zee and Viacom18-Reliance Jio mergers, although so far there's no news about whether the overall number of platforms will shrink.
Despite all this, Dave says he's optimistic about the future career trajectories of Tulsea's writers: "If you're talented, you can now feel confident about making a career as a writer," he says. "We may not have the Shonda Rhimes and J.J. Abrams kind of pay checks coming to writers here, but our premium drama industry is only five years old. I now have showrunner clients who say they don't want to move into directing because there's a dearth of good writers. It wasn't like that ten years ago – everyone wanted to direct."
Must Read Stories
AMPTP Hits Back, Making Its Case For "Generous" Contract Offered To The WGA
Strike Briefly Shuts Down 'Billions' In NYC; Teamsters Honor Picket Lines At 'AHS' Set
Fox On The Run: 'Guardians Of The Galaxy Vol. 3' Seeing $14M Thursday, 'Super Mario' Spots $500M
WGA's David Goodman Slams Latest Studio Response, Says Paramount CEO Sounds "Scared"
Read More About:
Source: Read Full Article