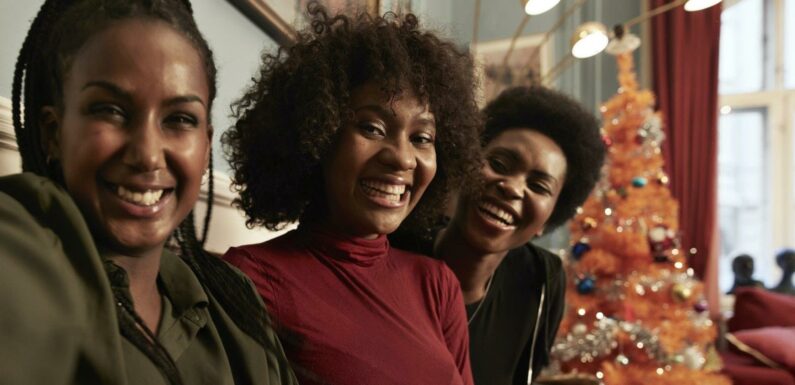 Written by Amy Beecham
If you don't know how to tell your mum, BFF or partner you're not doing presents this year, read this.
Christmas: 'tis the season to get festive – and spend a lot doing so, it seems. If you're anything like me, you'll already be fielding 15 drink invites, have eight Mango dresses in your online shopping basket and a growing gift list to contend with, all while the cost of living continues to skyrocket and the country wades through a recession. Not so holly jolly.
It's true that in 2022, we're all feeling the pinch in one way or another. According to data from Barnardos, 77% of people are expecting Christmas costs to be higher this year due to the cost of living crisis, with a further 24% cutting back on spending on gifts entirely. Almost a quarter (22%) of shoppers won't be buying their partner a present, with others admitting that specific Christmas food, decorations and drinks are all being cut from their budget this year.
But even if you're looking at trimming your 'to buy' list or shopping entirely secondhand for gifts, broaching the subject with your loved ones can feel awkward. As necessary as it might be, no one wants to be the first to suggest switching your annual Big Night Out for mulled wine and Lindsay Lohan's new Christmas cheese-fest at home.
So just how do you start the inevitably awkward conversation and avoid festive debt hangover?
Be honest
"Having an open and honest conversation with your friends and family as early as possible is the best way to avoid any uncomfortable situations later down the line," explainsAlina Jaffer, a personal finance expert at Virgin Money. "Rising costs will be affecting everyone in some way, so it is likely that many people will feel relieved that you're the first person to broach the topic."
Of course, you don't need to share any personal details to justify your financial caution. Just do your best to explain that your budget is tighter this year and you don't want either party to feel pressure to spend money they simply don't have. It may feel uncomfortable at first, but it has to beat the anxiety of watching the cash draining from your account.
Don't feel obliged to give gifts
As Jaffer helpfully reminds us, there is no obligation to give presents at Christmas. Spending quality time together is so much more enjoyable than a token gift that you're not even sure they'll really like.
"While expectations will vary from person to person, try not to feel bad if you simply cannot afford to give extravagant gifts this year. You are not alone and it can be helpful to remember that almost half of people in the UK are feeling anxious about buying gifts too," she says. For families or friendship groups that simply cannot go without a gift exchange, Secret Santas with a strict price limit or a classic White Elephant could also be the way to go to keep costs down.
Would you forgo Christmas presents in 2022?
Embrace secondhand gifting
If you are set on buying gifts, why not consider a more environmentally (and economically) sustainable option and shop secondhand?
According to pre-loved selling platform Vinted, over 38% of people surveyed had given someone a secondhand item over the past 12 months. However, it still carries a social stigma, with some people still hesitant to give a secondhand gift because they are unsure whether it is 'appropriate' and are uncertain about their recipient's reaction to receiving pre-owned items.
But while nearly new and even brand new with tags items can easily be found across sites like eBay, Vinted and Depop, it's easier than ever to make environmentally friendly swaps when curating your Christmas list.
"Opting for a pre-loved or secondhand item doesn't diminish the spirit of gifting, if done right it can actually be more meaningful," adds Natacha Blanchard, consumer lead at Vinted."Secondhand does not mean second best. Gifting a unique, pre-loved item (vintage jewellery for example) shows that time and great attention were spent to find somethingmore personal than off-the-shelf pre-assembled gift sets. This way, the gift is also less likely to end up in a pile of unwanted gifts at the end of the year."
If the cost of living crisis is making you feel worried about Christmas, you can find support from Virgin Money here. 

Images: Getty
Source: Read Full Article