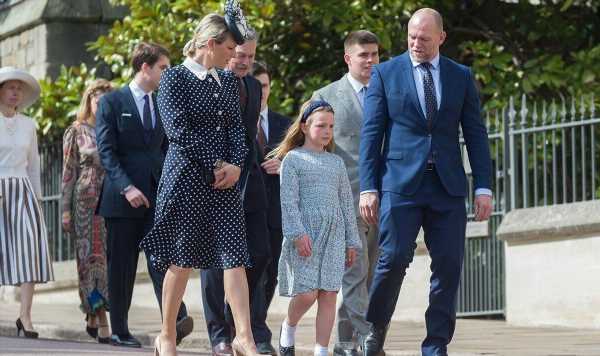 Zara Tindall says her mother Princess Anne is her 'role model'
We use your sign-up to provide content in ways you've consented to and to improve our understanding of you. This may include adverts from us and 3rd parties based on our understanding. You can unsubscribe at any time. More info
Princess Anne was the first of the Queen's children to become a grandparent when her son Peter Phillips and his ex-wife Autumn welcomed their first child in 2010. Four more grandchildren have followed for Anne, and she is known to be a hands-on grandmother.
Peter Phillips has two children, Savannah and Isla Phillips, and together they were the late Queen's eldest great-grandchildren.
Anne's daughter Zara Tindall also has three children with her husband, the former rugby pro and current I'm a Celebrity… Get Me Out of Here! campmate Mike Tindall.
Their daughter Mia Tindall was born in 2014, their second child Lena was born in 2018 and their son Lucas was born in 2021.
In an interview marking Anne's 70th birthday, her two children spoke about how the Princess is on grandmother duty on Sundays.
Peter said: "She loves seeing them ride, she loves having them around for Sunday lunches, doing all the sorts of stuff we used to do as kids. She now takes them to do this sort of things."
Zara joked: "We quite like leaving them on Sundays. We'll say, 'We'll pick them up later, bye'."
The latest of Anne's grandchildren, Lucas Tindall, was welcomed in a bit of a hurry at his parents' home of Gatcombe Park in Gloucestershire last year.
Zara ended up giving birth at home as there wasn't enough time to get to the hospital, and her friend Dolly Maude guided her through it.
DON'T MISS:
Mike Tindall compares Sue Cleaver's I'm A Celeb exit to 'divorce' [VIDEO]
Zara Tindall 'won't' meet Mike Tindall on I'm A Celeb bridge [ANALYSIS]
Mike Tindall's real reason for signing up to I'm A Celebrity exposed [INSIGHT]
Mike said on his podcast The Good, The Bad and the Rugby: "As we got our stuff to go to hospital, she got out of the bath, she could barely stand, she was shaking.
"The midwife was like 'she's not making the hospital'. She was like 'you don't want to be delivering in the car'.
"[I went] into the gym [and got] two gym mats [to put] down in the bathroom."
While Princess Anne is a working member of the Royal Family, the Phillips' and the Tindalls are free to pursue their own careers away from the confines of royal life.
"She was like 'you don't want to be delivering in the car'.
[I went] into the gym [and got] two gym mats [to put] down in the bathroom."
The families are also without royal titles as Zara and Peter were the monarch's grandchildren born through the female line, not the male.
As an accomplished equestrian, Zara has spoken warmly about her parents' decision not to give her a royal title.
She told The Times in 2015: "I'm very lucky that both my parents decided to not use the title and we grew up and did all the things that gave us the opportunity to do."
Savannah, Isla, Mia, Lena and Lucas are all still included in the line of succession behind their royal parents, but they do not hold Prince or Princess titles.
They are unlikely to be working royals in the future like many of the late Queen's grandchildren are not.
Source: Read Full Article