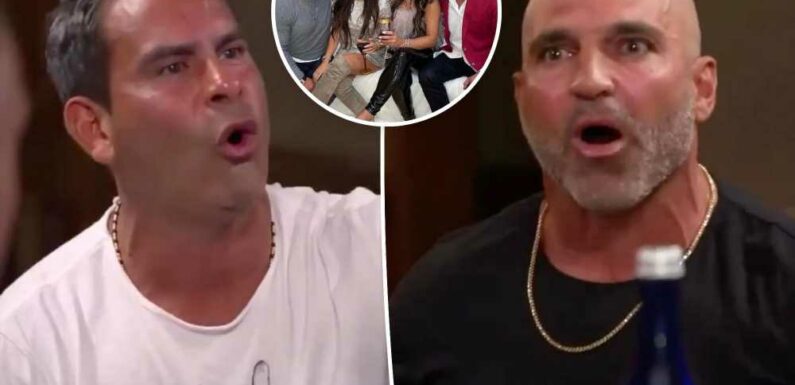 More On:
joe gorga
Gia Giudice slams 'opportunist' uncle Joe Gorga for reunion with her dad
Teresa Giudice reveals role Melissa Gorga feud played in Jacqueline Laurita reunion
'RHONJ' recap: Melissa Gorga slams Teresa Giudice in explosive fight
Gia Giudice praises mom Teresa's 'strength' for walking down the aisle 'alone'
Joe Gorga and Luis Ruelas get into a volatile argument that results in Gorga threatening to get physical in a preview for Tuesday's episode of "The Real Housewives of New Jersey."
Tensions escalated during an "RHONJ" husbands' dinner when Gorga brought up the topic of Ruelas and Teresa Giudice not inviting his wife Melissa Gorga's parents to their upcoming wedding.
"F–k you, f–k you, you're not a man, bro," Gorga, 48, said firmly while pointing at Ruelas, 47. "You're a f–king pussy, you know why."
Ruelas asked Gorga if he was implying he was "not a man," adding, "I'm so above you, it's not even funny."
After Gorga snapped back that he'd prove to Ruelas "what a f–king man is," Ruelas assured him that he can "talk all you want, because you're not going to affect me."
"I'm gonna break your f–king balls!" Gorga screamed while hitting the table. "F–king right now!"
Ruelas claimed it was "a lot of past bulls–t" that ultimately led to their decision.
"There's a lot of slap in the faces going around, [and] you're not the only one who's feeling like that," he said. "Your wife went publicly on social media this week to say that her kids wouldn't eat food if it wasn't for you and her."
Ruelas was seemingly referring to a May episode of Melissa's podcast, "On Display," where Joe claimed that if he and Melissa, 43, weren't on "RHONJ" when Giudice went to prison in 2015, Giudice's kids "would not still be living in that house and have food."
"What she meant, and what I meant, was I've held my sister, I called her every f–king day, I took care of my sister, I was there," Gorga clarified.
But things went south when Ruelas said Gorga's four nieces talk about the tumultuous relationship between the two families.
"You don't know s–t, bro!" Gorga exclaimed. "You've been here one f–king minute!"
They continued going back and forth, with Gorga telling him to "just be quiet" and how he "should be embarrassed" to talk about his nieces, while Ruelas fired back that he will "say whatever I wanna say to you."
"Tough guy, f–k you, don't talk to me like that," Gorga said, with Ruelas later warning him to "stop with the theatrics."
Unfortunately for the two families, this doesn't seem to be the last explosive argument the brothers-in-law will face this season. In the Season 13 trailer, Ruelas, Giudice and the Gorgas got into a heated conversation that resulted in Ruelas threatening to "f–king punch [Gorga] in the face."
The several disagreements ultimately resulted in the Gorgas skipping out on Giudice and Ruelas' wedding last August — and they have only continued to publicly feud.
Share this article:
Source: Read Full Article